BirdLife Malta's LIFE Arċipelagu Garnija project aims at securing the Maltese Islands for the Yelkouan Shearwater, a small shearwater species that can only be found in the Central and Eastern Mediterranean region.
About
BirdLife Malta's LIFE Arċipelagu Garnija project aims at securing the Maltese Islands for the Yelkouan Shearwater, of where approximately 10% of the species' global population can be found. Protection of this local population is important on the global scale, especially with the drastic declines Yelkouan Shearwaters have been facing over the last decades. The species has been recently listed as 'vulnerable' in the International Union for Conservation of Nature's (IUCN) Red List of Threatened Species and is protected by several international conservation agreements, as well as local legislation. It is listed under Annex I of the EU Birds Directive.
---
The Project's objectives are:
– Assess all Yelkouan Shearwater colonies, their size and reproductive output
– Identify and map threats at each Yelkouan Shearwater colony site
– Prepare and implement conservation strategies for the main colonies, matching the management plan for most of the coastal SPA sites of the Maltese Islands
– Tackle threats posed by alien invasive species, light pollution, bunkering (ship fuelling) and additional maritime activities by reaching out to the relevant stakeholders
– Achieve a reduction of the main threats per site by one-third
– Increase the reproductive output of the majority of breeding colonies by 25%
– Support key targets in Malta's National Strategy and Biodiversity Action Plan to reach Good Environmental Status (GES) by 2020
– Ensure the management of Natura 2000 sites
---
Supporters
The LIFE Arċipelagu Garnija project is co-financed by a number of organisations, with 10% generated by EU funds, 25% from Maltese Government funds, and 5% from the RSPB. BirdLife Malta finances 10% of the project.
BirdLife Malta is also collaborating with partner organisations to fulfil the project objectives.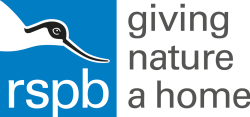 The Royal Society for the Protection of Birds (RSPB)
The RSPB is one of the worlds largest Nature Conservation NGOs and BirdLife Partner in the UK. The RSPB has a long tradition in projects and therefore expertise in island restauration, species recovery and eradication of Alien Invasive Species (AIS). Their main part of the project is a feasibility study for the eradication of rats and other alien invasives on Comino and Cominotto with the aim to improve the reproductive success of the seabirds on Comino and to restore the natural habitat of this bird sanctuary and Natura 2000 site. The whole project has been planned with support from experts in seabird conservation, including staff from the RSPB.
Transport Malta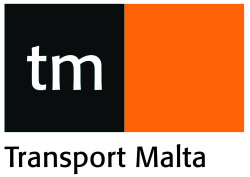 Transport Malta will be contributing to the project. Their role is to disseminate the information regarding the protection of birds' habitat through the Notices to Mariners and to be involved in assessing the threats of offshore bunkering of ships close to colonies. Together with the AFM and ALE, TM's Sea Enforcement Unit, they will also inform any boats in the area not to cause excessive noise such as loud music that would disrupt the habitats during routine patrols.
Yelkouan Shearwater
The Yelkouan Shearwater (Garnija),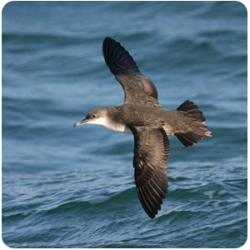 a medium-sized seabird flies with rapid wing beats, rarely shearing over waves. During its breeding season, from February to July, individuals may be observed resting at sea alone or in small rafts. Malta's population is estimated to be around 1,600 – 1,800 pairs, constituting approximately 10% of the global population. The Maltese population has declined in recent years, mainly due to predation by rats, loss of breeding habitat, illegal hunting, disturbance and light and sound pollution. The IUCN classes the Yelkouan Shearwater as 'vulnerable.'
Conservation
By identifying the key threats which affect the Yelkouan Shearwater, appropriate conservation strategies will then be prepared and implemented, securing the main colonies.
This will include:
– Looking at the risk of Alien Invasive Species, littering and the implementation of predator control and invasive rodent removal for protection the of eggs and chicks which are vulnerable to rat predation
– The project will also work towards significantly reducing light pollution from Cirkewwa Ferry Terminal, which is situated close to three Yelkouan colonies causing disturbance to the birds
– Tackling the effects of bunkering (ship fuelling) in close proximity to colonies and other maritime threats causing disturbance, from recreational boat owners and boat trip operators
– Lastly, raising public awareness about these secretive seabirds to gain strong support from the Maltese population making the Yelkouan Shearwater a mascot for the protection and management of Malta's coastal nature sites, many of them Natura 2000 sites, to which these seabirds come back every year to breed
The conservation actions will then be monitored at the top priority sites throughout the duration of the project.
News, Blog and Events
Yelkouan Shearwaters and the threats of predators
11 July, 2017. Seabirds face many risks during the time they spend on land. In Malta there are three species of seabird that breed within the Islands, all of which are nocturnal, meaning they are only active during the night.
27 June, 2017. A blog post all about the work of the EU-funded LIFE Arċipelagu Garnija project has now been entered into the #EUinmyregion blog contest! You can read the blog post and help us raise more awareness for the project by sharing and rating it here.
Stranded Yelkouan Shearwater chicks rescued
22 June, 2017. Two Yelkouan Shearwater (Garnija) chicks have after they were found stranded in Għadira Bay and Buġibba during fledging period.
June & July, 2017. Join our LIFE Arċipelagu Garnija sunset boat rides to see one of the most spectacular Malta's natural phenomena – the Scopoli's Shearwater 'rafting' on the water before returning to their nests in Ta' Ċenċ Cliffs.
8th June, 2017. Alongside other local NGOs, the project team participated in an awareness event at Malta National Aquarium for World Oceans Day to show what marine pollution looks like from a seabird's eye view.
Mediterranean Storm-petrel release
30th May, 2017. Volunteers working on the LIFE Arċipelagu Garnija project successfully released a Mediterranean Storm-petrel which was found stranded in Sliema. The reason that this bird was found in an urban area is probably because of light pollution, which causes the bird to be disorientated and attracted to the lights – a key threat the project is working to tackle. You can watch the video of the release here.
21st May, 2017. LIFE Arċipelagu Garnija celebrated European Natura 2000 Day together with BirdLife Malta, ERA and the National Museum of Natural History Malta with special events held at Il-Majjistral Visitor Centre as well as at Għadira and Simar Nature Reserve.

May 11th, 2017. LIFE Arċipelagu Garnija participated in a second clean-up event this time at Mistra Bay, Mellieħa. The event was a great success and helped to raise awareness about the impacts of litter on the environment and wildlife, including seabirds like the Yelkouan Shewatwer.
April 30th, 2017. LIFE Arċipelagu Garnija last Sunday participated in the clean-up held at L-Irdum tal-Madonna in Mellieħa which brought the Valletta Green Festival 2017 to a close. This site is one of Malta's richest Natura 2000 protected sites and it is mainly protected because it holds the main Yelkouan Shearwater colony in the Maltese Islands. Read more >>
April 25th-30th, 2017. During the last week of April LIFE Arċipelagu Garnija was represented on BirdLife Malta's stand at the Valletta Green Festival whose theme this year was marine litter. We showed how this impacts seabirds. At the end of the week we also participated in a related Clean-up with other eNGOs. Read more >>
April 22nd, 2017. The LIFE Arċipelagu Garnija team participated in Science in the Citadel which was held in Gozo. It was a fantastic day raising awareness about the work of the project and life of the seabirds that inhabit the Maltese Islands! Apart from a stand, Project Manager Paulo Lago also led an informative talk. Read more >>
February 27th, 2017. Working in a seabird conservation project is something that I would never have imagined the first time I stepped on to the Maltese islands. Read more >>
February 22nd, 2017. BirdLife Malta are currently seeking a Technical Officer to join the LIFE Arċipelagu Garnija team to carry out a range of duties related to light pollution affecting Yelkouan Shearwaters colonies in the Maltese Islands. Read more >>
February 12th, 2017. LIFE Arċipelagu Garnija will be delivering a talk and a night walk on the cliffs of Majjistral today week, Sunday 12th February. This event is being organised by Il-Majjistral Nature and History Park with collaboration from LIFE Arċipelagu Garnija.
January 31st, 2017. January and February marks the mating period for the Yelkouan Shearwaters and right now, the LIFE Arċipelagu Garnija project staff are busy monitoring the activity in the different colonies. Here are some amazing clips captured by remote camera trails at the L-Irdum tal-Madonna colony. Watch here >>
December 16th, 2016. The LIFE Arcipelagu Garnija project will be focused in the next months in locating and monitoring Yelkouan Shearwater colonies all around the Maltese Islands. We would like all people who are interested in our project to have the opportunity to join us in the field and discover the amazing lives of this seabird. Read more >>

December 7th, 2016. Living on a tiny, overpopulated group of islands it is easy to get disheartened if you treasure nature and wildlife. The environmental problems found worldwide are all the more concentrated on Malta and facing them can be daunting. Luckily there are people that do; BirdLife Malta researchers and conservationists for example. Read more >>
November 9th, 2016. BirdLife Malta is looking for one full-time Project Warden to join their international team in the LIFE Arċipelagu Garnija Project to carry out a range of seabird monitoring and wardening duties at Yelkouan Shearwaters nesting sites in the Maltese islands. The Project Warden will be based in our offices and work in relevant Natura 2000 sites. Read more >>
November 4th, 2016. BirdLife Malta would like to thank the public for responding to its call and helping in rescuing stranded Scopoli's Shearwaters which become disorientated during the fledging season. October 2016 marks a record as 21 fledglings were rescued and safely released back at sea. Read more >>
October 17th, 2016. Last week, BirdLife Malta attended a meeting in Paris to develop the Species Action Plan for Yelkouan Shearwater, joined by leading bird researchers and experts from Spain, Italy, France, Morocco, Turkey, Greece, Libya, Croatia, Malta, Tunisia, Bulgaria and the UK as part of the LIFE EuroSAP project. Read more >>
October 5th, 2016. BirdLife Malta is asking the public to report any sightings or findings of Scopoli's Shearwater (Ċiefa) which may have become stranded during their first flight so they can be safely released back at sea. Read more >>
September 2nd, 2016. LIFE Arċipelagu Garnija has officially finished its first field season.From January to July BirdLife Malta's seabird team has been working day and night, from land and sea during the Yelkouan Shearwater breeding season, focusing on the preparatory actions of the project. Read more >>
June 2nd, 2016. To fully understand the impact of artificial light on the Yelkouan Shearwater (Garnija) caused by bunkering ships, a radio-tracking project has been started at a breeding site of the birds in the northern part of Malta. Read more>>
May 27th, 2016. Today the official launch of Arċipelagu Garnija took place at Majjistral Nature and History Park that hosts one of the largest Yelkouan Shearwater colonies. The launch event celebrated the beginning of the five-year long project, alongside partners Transport Malta and the RSPB. Read more>>

Contact
Contact detail
Life Arċipelagu Garnija
LIFE14 NAT/MT/991
BirdLife Malta V.O. 0052
Office address: Flat 2, Xemxija Waterfront Apartments, Triq Is-Simar, Xemxija SPB9025
Legal address: 57/28 Triq Abate Rigord, Ta' Xbiex XBX 1120
Email: paulo.lagobarreiro@birdlifemalta.org
Tel: +356 21347646 Direct Ext: 511
Mobile: +356 77615533
You can keep up with the team's work on social media. Click the icons below to view our Facebook and Twitter page.
---
Meet the team

The Project Manager
Paulo has a background of more than 10 years in bird and nature conservation. He has a Master's in Protected Areas and has volunteered with various environmental NGOs with alien plants, bird and cetacean conservation. Paulo was Head of Research in the LIFE+ Malta Seabird Project before becoming Project Manager in LIFE Arċipelagu Garnija.
The Conservation Manager
Nicholas is BirdLife Malta's Conservation Manager. He joined BirdLife Malta in 2009 to manage BirdLife Malta's LIFE Yelkouan Shearwater Project and then moved on to manage the LIFE+ Malta Seabird Project, while also managing BirdLife Malta's growing conservation department. Nicholas studied conservation biology in the UK, and biology and chemistry in Malta.
Project Warden
Juan has a degree in biology and a Master's in Conservation of Biodiversity. He has previously volunteered in Sierra Nevada National Park in Padul's wetland for five years. In February 2015, he arrived in Malta to work for Birdlife Malta in the conservation team as an EVS volunteer and has also worked within the LIFE funded Malta Seabird Project.
Project Warden
Martin has a Bachelor's degree in Earth Systems and a Master's in Ecology. Martin began volunteering with BirdLife Malta and later became a leader of the youth group Falko and helped out as a licensed bird ringer with the LIFE+ Malta Seabird project. Martin has now joined the LIFE+ Arcipelagu Garnija team as Project Warden.
Project Warden
Nancy is a conservation biologist interested in avian behavioural ecology with particular emphasis on the population dynamics and conservation of seabirds. She joined first BirdLife Malta under the EVS scheme as a conservation assistant in 2016 before joining the team as project warden for two months.
Project Warden
Jenni has a marine biology and zoology degree. Her love of seabirds started when she was working as a volunteer on a remote offshore island in Mauritius in 2013. She has since worked as a seabird ecologist on Alderney in the Channel Islands, before joining the project for a six-month period.
The Finance Manager
Gianmarco studied Economy and Accountancy at the University of Macerata and is also a qualified accountant and auditor. After obtaining his professional qualification he moved to Malta, where he was previously an Erasmus student, and began working as BirdLife Malta's Finance Manager and within LIFE Arċipelagu Garnija.
The Project Administrator and Senior Finance Officer
Arturo has a degree in Economics and Commerce and Master's in Economics and Finance. Arturo spent his first year at BirdLife Malta as an EVS volunteer within the finance department and since December 2015 has been working within LIFE Arċipelagu Garnija supporting financial and administrative activities.
The Communications Manager
Nathaniel is BirdLife Malta's Communications Manager and joined the organisation in May 2016 after a successful 17-year career in the media. Together with his team he will be responsible for dissemination of all the information regarding LIFE Arċipelagu Garnija through a detailed communications strategy.
The CEO
BirdLife Malta CEO Mark Sultana's role in this project is to assist the team, in particular the project leader and finance officer, in the decision making process to direct this project to successful results; as achieved in previous EU funded projects that BirdLife Malta has managed over the years.
---
Past project staff

Dr. Benjamin Metzger – Project Manager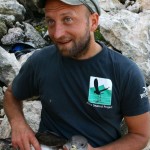 Edward Jenkins – Project Warden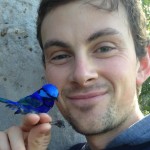 ---