At the current time Malta's shorelines are experiencing lower levels of maritime activity due to the halt in tourism and Bottlenose Dolphins have been seen close to Valletta in recent weeks, however it may not be immediately obvious that this reduced activity may also have potential benefits for Malta's seabirds.
BirdLife Malta's seabird team have been working hard over the past few years of the LIFE Arċipelagu Garnija project to assess and reduce the impact of boat-based tourism on breeding Maltese seabirds, with focus on the most vulnerable species inhabiting the coastal cliffs and islands here, the Yelkouan Shearwater (Puffinus yelkouan), which is endemic to this region.
The effects of boat disturbance on the survival and success of seabirds has been documented through a number of scientific studies, highlighting effects such as increased predation of seabirds by night-hunting gulls and reduced visitation of cliff burrows due to illumination by light-induced nocturnal fisheries operating close to colonies. Out at sea there has been documentation of birds avoiding optimal foraging areas in instances where boat activity is high, an increase in birds flushing and vacating an area with increased boat speeds, and increased sensitivity of adults to being flushed closer to the hatching period when foraging becomes of paramount importance. Also interestingly, it has been documented that some species show habituation to the presence of boats in areas where traffic is channelled.
The research that has emerged over the past decade has collaboratively presented solutions that can be implemented in a targeted way to reflect the threats at different locations. For instance spatial and temporal zone restrictions to reduce, rather than eliminate, boat activity in identified sensitive feeding and nesting areas, setting exclusion distances from the most vulnerable nesting and foraging areas, channelling boat traffic, and implementing speed restrictions where there is a regular occurrence of high-speed boat activity. These measures would make a difference for breeding seabirds while supporting the continuation of boat activities without major disruption.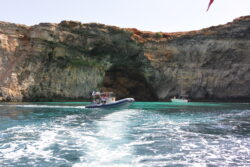 Perceivable impacts to Maltese seabirds include disturbance from large boats entering small coastal caves where birds are nesting within hidden cavities, high densities of boats active in areas where birds forage, such as Important Bird Areas (IBAs), and overnight bunkering (refuelling) operations close to the cliffs which provide a source of light pollution upon nesting sites. Given that maritime activity constitutes a large part of Malta's economy and way of life, we believe compromises and education to reduce noise, light and physical disturbance will form the basis to providing solutions.
BirdLife Malta works in collaboration with its partnering organisations, Transport Malta, and the Environment and Resources Authority (ERA) to find these compromises and raise awareness among boat operators that will help to secure future success for the seabirds that inhabit the Maltese islands.
BirdLife Malta has carried out surveys to assess the intensity and characteristics of boat activities around sensitive breeding colonies at the beginning of the project and are actively working with Transport Malta and ERA on finding practical solutions to provide a way forward to protect Maltese seabirds in the long term, without detriment to marine-based businesses.
By Natalie Robinson, Seabird Conservation Assistant
Natalie Robinson is an Erasmus+ volunteer following a European Solidarity Corps programme