Injured Birds
We offer an injured bird service for wild species, which operates throughout the year to rescue and rehabilitate injured birds. If you find an injured bird please contact us immediately:
Weekdays (9am – 5pm): 21347645/6
Evenings and weekends: 79255697
---
Baby Birds
During spring and summer it is common to find baby birds on the ground, with no sign of their parents. As birds grow up they go through a fledging stage where they deliberately leave the nest before they are fully able to fly. They then spend a few days feeding on the ground whilst their flight feather continue to grow. Whilst you may not be able to see the parents around, it is extremely unlikely for a parent to abandon a fledgling, and they are more likely to be away collecting food or hidden close by. In most cases human interference is not necessary.
Take a look at our infographic below which guides you through the best practice for finding a baby bird. If in doubt, please contact us on 21347645/6 and we can advise you further.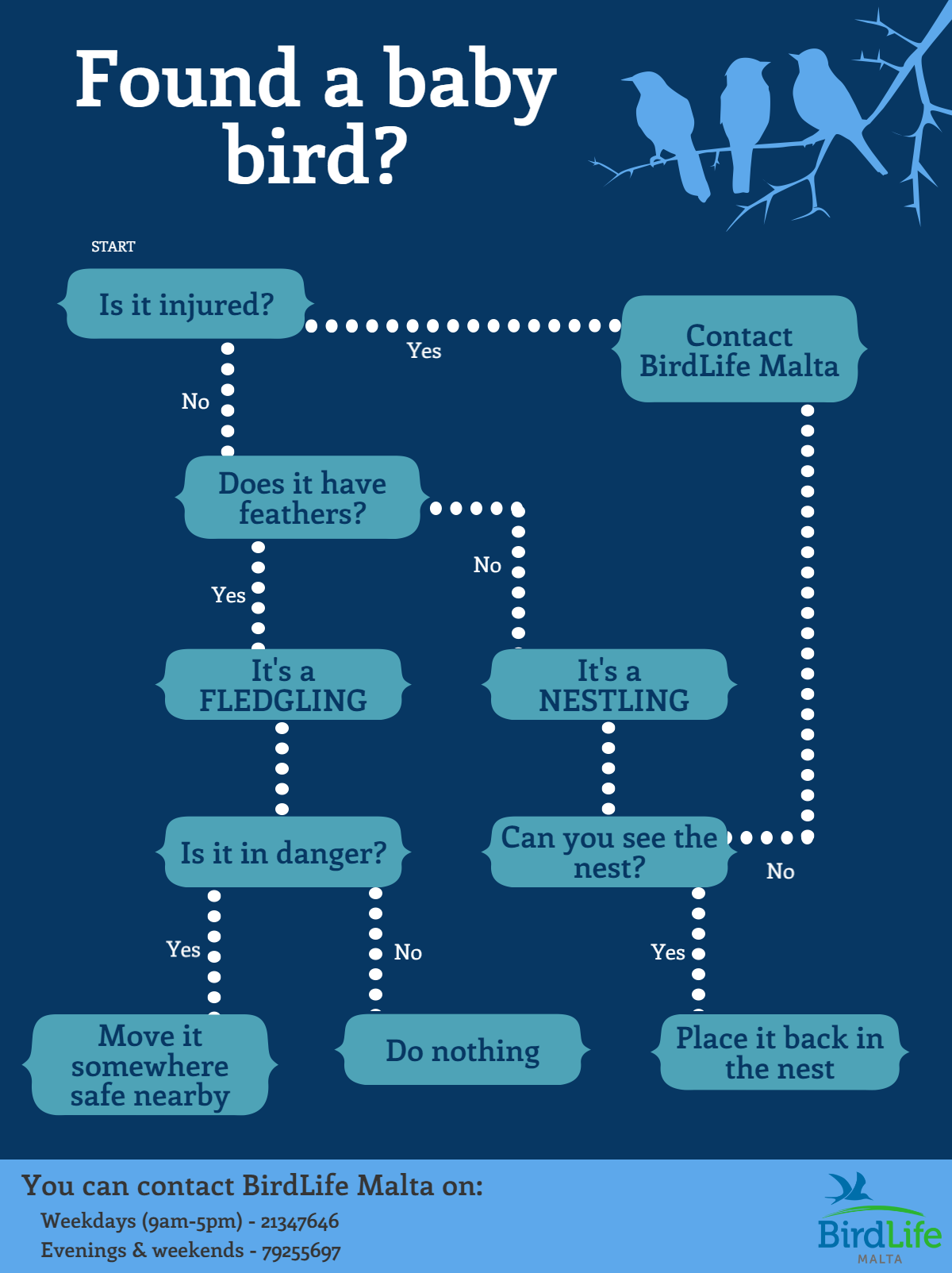 ---
Stranded seabirds
Each year, we appeal to the public to report any sightings of stranded seabirds in coastal areas or inland that may have become disorientated when fledging for the first time. Between June and July, Yelkouan Shearwater chicks will leave their nests for the first time, followed by Scopoli's Shearwaters during October and November.
If you find a stranded seabird:
Call BirdLife Malta
Gently place the bird into a well-ventilated cardboard box
Keep the bird in a quiet place to minimise stress and do not give it food or water
Sit tight and wait for BirdLife Malta to arrive on site. We will then release the bird in a safe place!