This spring BirdLife Malta has once again launched its #onthemove campaign to encourage people to enjoy, care about, and protect migrating birds.
Following the success of the autumn migration campaign last year, this year's spring campaign will run from March 15th to May 15th when spring bird migration will be explored and explained on BirdLife Malta's social media platforms, sharing interesting facts and information on migratory birds and birdwatching hotspots, as well as activities and events to get involved during this unique time of the year.
The #onthemove campaign focuses on three key elements:
ENJOY – Do you know why some birds fly in a V-shape and others in circles? Do all birds migrate? Throughout a wide range of online and in the field activities you will learn many interesting facts about bird migration and why Malta is such an important spot for the millions of birds that fly over it during spring.
CARE – Migration routes are natural corridors for migratory birds which connect different habitats along their journey. Malta offers a unique location as a resting place during their long flight where birds stop to feed and rest. Caring for the environment and maintaining intact natural habitat is essential for birds to find the ideal conditions to refuel and rest before continuing their journey.
PROTECT – During migration, birds face different challenges and can encounter dangers that jeopardize their safety. From habitat loss and climate change, to the impacts of human activities such as indiscriminate hunting and trapping, birds are affected by hazards during their migratory journeys. With your help we can take action to combat threats and ensure their survival.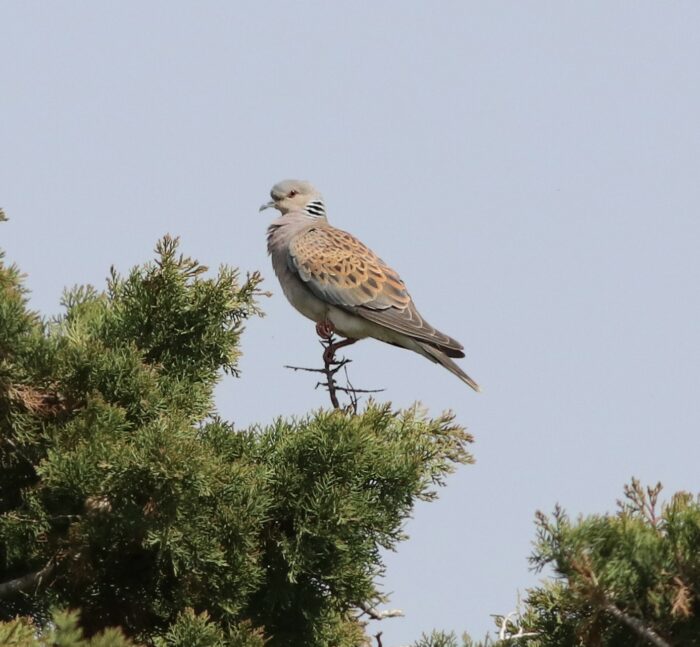 Follow the campaign on our social media!
Find out more about all the possible ways in which you can participate in the campaign. From reporting hunting illegalities to volunteering, you can be part of this spectacular phenomenon and give your support in protecting migratory birds and their natural environment. Read more below.
What is bird migration?
Many species of birds migrate seasonally. These movements, often north and south, are driven by changes in the availability of food, in the habitat or weather and have been perfected in time and space through evolution.
Birds migrate from areas where resources are scarce to places where they can find food and the ideal conditions for nesting. Migratory birds fly long distances along a migration route, which is called a flyway, and they can cover several thousands of miles during their yearly travels.
To undertake this extraordinary effort, the birds' bodies undertake physiological changes in preparation for the journey.
When they navigate, they may use different strategies from using the sun, the stars, and even by sensing the magnetic field of the earth or by learning from more experienced birds of their own species.
Why is Malta important for bird migration?
The Mediterranean Sea is crossed by hundreds of millions of birds during migrating seasons. Malta lies at the very centre of the African-Eurasian flyway and represents therefore a unique key spot for migratory birds.
Birds migrating between the African wintering grounds and their European breeding grounds find in the Maltese Islands the ideal place to rest and feed before reaching their desired destination.
During the spring, the Maltese Islands are a stepping stone to many European species returning to Europe to breed. Unlike autumn migration, spring is often a more fast-paced migration, with birds running a race to reach the best breeding grounds in Europe just at the right time.
Autumn and spring routes are not always the same, so in spring we get to see a different selection of birds compared to the autumn period!
Migration features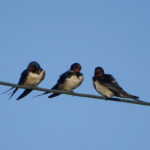 A feature about Spring bird migration in the Maltese Islands penned by Edward Bonavia, Malta Rarities & Records Committee Secretary. Read it here.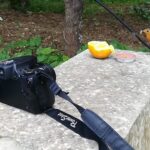 Il-fotografija tal-għasafar fir-rebbiegħa. A feature in Maltese with tips about bird photography during the spring season. Written by nature and bird photographer Aron Tanti. Read it here.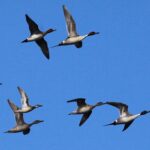 A feature about Migration of ducks, the harbingers of spring penned by BirdLife Malta Nature Reserves Warden Charles Coleiro. Read it here.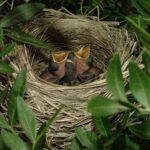 Normal can be fascinating. A feature by BirdLife Malta Reserves Manager Mark Gauci about breeding birds in Malta, especially the most common of them all – the Sardinian Warbler. Read it here.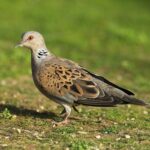 Another #onthemove feature issued at the end of April 2021 about the European Turtle-dove – the epitome of the magical spring season. Penned by Former BirdLife Malta Nature Reserve Warden Ray Vella. Click here to read it.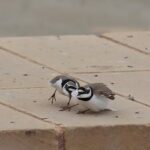 A feature about Spring birding in the nature reserves written by Salina Nature Reserve Manager Manuel Mallia. Read it here.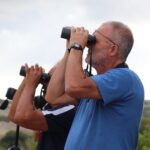 What is spring bird migration? When do birds migrate? Where are the best places to go birdwatching to see migratory birds, and how do you enjoy the spectacle? This feature by BirdLife Malta Field Teacher and Naturalist Desirée Falzon titled Enjoying bird migration provides an answer to these questions. Read it here.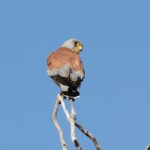 The spring raptor migration in the Maltese Islands is a spectacle not to be missed. Read more in this feature by Edward Bonavia, BirdLife Malta's National Raptor Coordinator.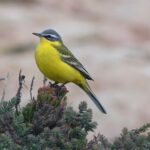 Il-passa tar-rebbiegħa – Ftit pariri għal min irid josserva l-għasafar is another feature in Maltese we produced for the 2021 #onthemove campaign. Penned by Field Teacher Jason Aloisio this feature provides tips on how best to enjoy the spring bird migration.
Volunteer
The spring hunting season is controversial as birds are injured or killed during their journey to their breeding grounds in northern Europe, thus depriving them of the chance to boost population numbers. Whilst only the Common Quail might be legal to shoot, many other protected species fall victim to illegal killing, such as the European Turtle-dove which is classified as 'Vulnerable' to extinction. Malta serves as a critical resting place for migratory birds, and our aim is to ensure that birds manage to continue their migration safely.
Do you love nature and spending time in the Maltese countryside? Would you like to make the countryside safer for wildlife and for people? If so, BirdLife Malta has the ideal opportunity for you!
We are looking for two types of volunteers:
+ motivated and enthusiastic local volunteers to help us in the field to watch over the migratory birds this spring, ensuring they pass over Malta safely on the way to their breeding grounds
+ volunteers who would be ready to assist in engaging with people online as part of the #onthemove campaign.
Spring Watch volunteer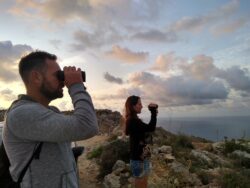 Join our organised camp to monitor spring bird migration during April! As a volunteer you can ensure that birds can safely fly through Malta.
Learn how to monitor wildlife crime through a preparatory training session and meet like-minded people who care about wildlife. During the camp you would join a team during shifts, and spend time in areas which are known for hunting activity. You would always be with a BirdLife staff member or an experienced volunteer. Our shifts take place during early mornings or late afternoons.
This voluntary work will involve spending time out in the countryside, looking for evidence of wildlife crimes occurring, gathering evidence of these crimes, and assisting the police with any further investigations. Volunteers who have good bird ID skills would be helpful, as well as anyone with good observation skills.
To get involved and make Malta a safer place for migrating birds, please contact our conservation officer on [email protected]. 
Online Engagement volunteer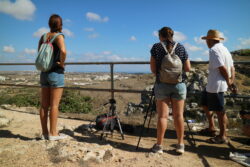 As part of this volunteering experience, you will be responsible for representing BirdLife Malta on our social media platform by replying to comments on our posts and private messages, responding to phone calls and contacting members of the public who request further information regarding the #onthemove campaign or becoming involved with BirdLife Malta.
You would also help in promoting membership and encouraging members of the public to engage with BirdLife Malta, Provide clear and accurate information about bird migration, wildlife and conservation in Malta and also act as a contact point for people reporting injured birds, ensuring all the correct information is passed onto the conservation team. Adequate training will be provided prior to starting this volunteering position. Volunteering hours are flexible and you do not need to live in Malta to apply.
To apply for this position, please send us an email to [email protected] with a cover letter explaining your interest in this role. You can also provide your CV, although this is not manatory.
For more information about both volunteering positions visit https://birdlifemalta.org/get-involved/volunteer.
Spring hunting
In spring, hunting is permitted in Malta for Common Quail. The spring hunting derogation is currently the subject of Infringement Proceedings initiated by the European Commission against the Maltese Government in December 2020.
The 2020 spring hunting season for Common Quail (Summiena) was opened between the 10th and the 30th of April. All other bird species were protected, including the European Turtle-dove (Gamiema).
However, although hunting was supposedly permitted only for Quail, the chosen dates for the season overlapped with the peak migration of the turtle-dove, which is a protected species that is red-listed by the IUCN as vulnerable to extinction and currently exempt from spring hunting by a moratorium. The extension of the season further towards the end of April put migrating European Turtle-doves at enormous risk from illegal hunting.
To read more about spring hunting in Malta visit our hunting webpage here.
Walk for Nature 2021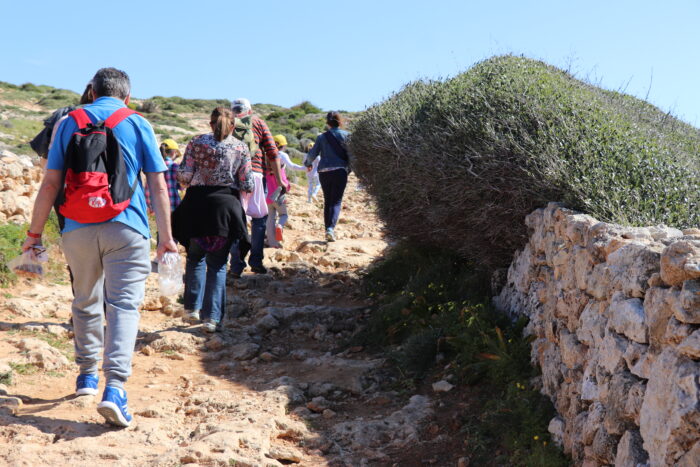 This year, due to COVID-19 restrictions, we could not organise our annual Walk for Nature in person. However, through our #onthemove campaign we are encouraging people to enjoy, care about and protect migrating birds, and we think that the Walk for Nature is the perfect way for you to do this!
In view of this we've launched the 2021 edition which will be held in a different way than in previous years. Throughout March and April, we are encouraging the public to help protect birds by purchasing one of our 'Walk for Nature' packs on our online shop. The funds raised through this year's event will go towards the purchase of a satellite tag for a rehabilitated bird of prey!
Every pack purchased will also get you one entry into a prize draw, where you could win some amazing nature experiences!
To learn more and participate visit the Walk for Nature 2021 event page here.
Join us for our virtual Walk for Nature 2021 and enjoy the Maltese spring by tagging BirdLife Malta on social media and using the hashtags #onthemove and #WalkforNature2021.