The BirdLife Malta Ringing Scheme
What is scientific bird ringing and why is it done?
Scientific bird ringing is the process of marking wild birds, often by using a metal ring around their legs, for the purpose of re-identification. By using uniquely coded rings, birds can be re-identified whenever and wherever they are caught again. This makes ringing a very powerful tool in the study of birds' lives, including bird migration, but not only. The ability of recognizing a bird from other birds of the same species that otherwise look identical, allows us to:
track a bird's movement, both locally and abroad and build migration and dispersal maps
study a bird's plumage and moulting strategies throughout its different life stages
estimate a species' longevity and mortality rates
estimate bird populations and population fluctuations
estimate migrant bird abundancies during migration periods and compare with environmental conditions (e.g. weather conditions)
study migrant bird stopover strategies
and many other things. Ringing is therefore a very important tool in conservation since all these insights help us determine effective ways in which we can protect birds and their habitats.
The video below describes the process of scientific bird ringing in the Maltese Islands.
Who can ring birds in Malta?
For a person to carry out scientific bird ringing in Malta, the person must undergo special training and obtain a bird ringing licence from local authorities. Such training can only be given and certified by ringing schemes that are recognized by EURING. EURING is the European body that regularizes bird ringing in Europe.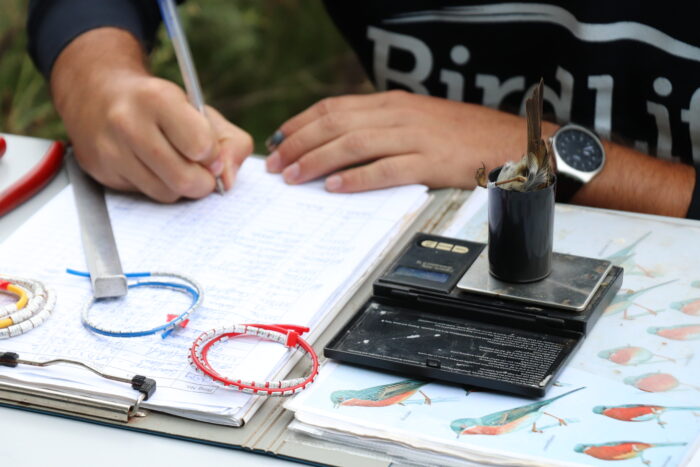 Bird ringing in Malta is carried out exclusively by the BirdLife Malta Ringing Scheme which is the only recognized EURING partner in Malta. Ringing in Malta started when bird ringers from the British Trust of Ornithology (BTO) visited Malta in September of 1965 and trained BirdLife Malta members (at that time the Malta Ornithological Society, MOS). Later on that year, the ringing scheme was officially formed in Malta and since then the scheme grew consistently with its licensed bird ringers actively studying birds throughout the year.
What kind of rings are used?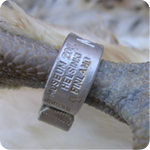 Scientific metal split-rings are used to ring birds. These are rings made of very light-weight but highly resistant metal and are closed with special pliers. Different ring sizes are used according to the size and shape of the bird's leg. The ring is fitted in such a way that it can move up and down along the bird's leg and turn on itself in both directions such that it does not hinder the bird's movement.
Rings used for bird ringing need to be approved by EURING. These are produced by a few manufacturers around Europe. Each scheme has its own unique "address" that is engraved on the ring. For the case of Maltese rings, the inscription reads "BL MALTA VALLETTA" or "BIRDLIFE MALTA VALLETTA", depending on the size of the ring. Together with the address, the ring carries a unique code. This combination of address and code makes the ring globally unique and therefore whenever it is read it is traceable to the original ringing record.
The bird ringing process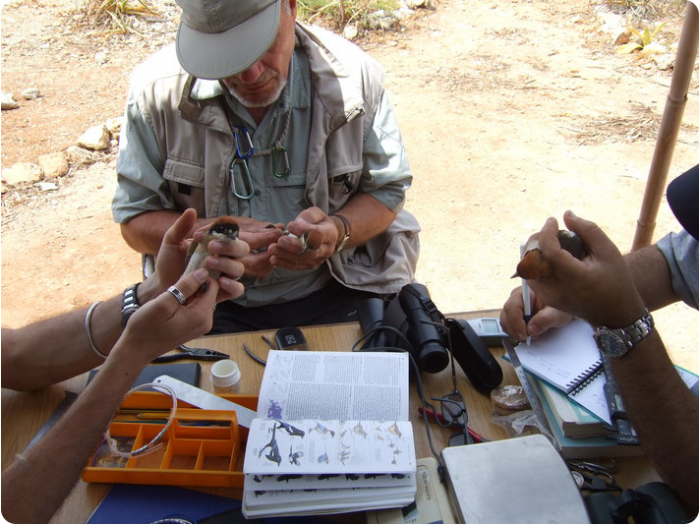 The process of bird ringing is a multi-stepped process. Firstly, the bird needs to be caught. Different catching methods exist but mist-netting is the most commonly used by ringers. Mist-nets are vertical nets erected in places where birds are mostly likely to fly in and get caught. Mist-nets are never left unattended and are put up before every ringing session and taken down immediately after. Only licensed bird ringers are allowed to use mist-nets.
Once birds are caught, these are carefully extracted from the nets and taken to the bird ringing station where they are processed. Birds are first identified to make sure that the correct ring is fitted. The ring is fitted on the bird's lower part of the leg called tarsus.
After the ring is fitted, different biometric data is taken. This process only takes 1 or 2 minutes. After that, the bird is immediately released back into the wild. No bird may be kept by a bird ringer, of course.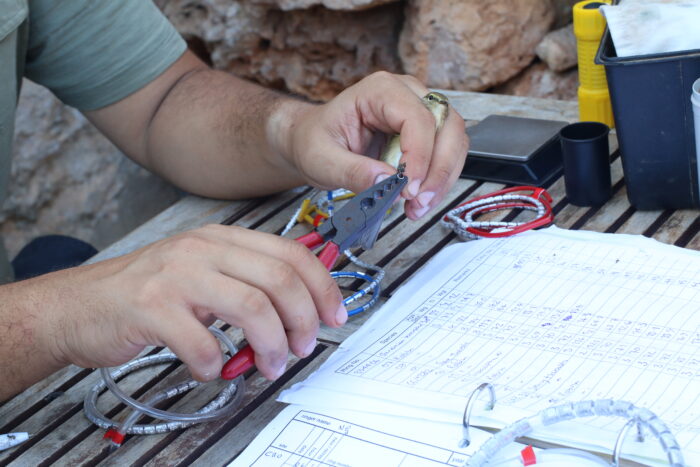 Where is ringing carried out in Malta?
Different sites in different habitats in the Maltese Islands are used by ringers. Għadira Nature Reserve and Simar Nature Reserve, two wetland sites managed by BirdLife Malta, are two constant effort sites where ringing is carried out on a daily basis. On the island of Comino, the BirdLife Malta Ringing Scheme operates a Bird Observatory where a standardized ringing project is carried out during spring and autumn migration. This project has been ongoing annually since 1991. Other sites where ringing is regularly carried include Salina Nature Reserve, Foresta 2000 and Buskett.
Through ringing BirdLife Malta has also been carrying out special studies on seabirds that nest in Malta. Ringers visit specially protected areas along the coast to study the mysterious lives of these birds that unfortunately face a lot of threats and are in great need of protection.
Studying birds using geo-location devices
Along with bird ringing, new technologies such as GPS loggers and satellite loggers allow us to collect more accurate, and sometimes live, data on the movement of birds. The more affordable and smaller these devices become, the more widely they are used by bird ringers throughout the world to study different species. Incredible migration routes and journeys are being uncovered using these devices.
In Malta the BirdLife Malta Ringing scheme, with support from different partners, has so far studied the movement of storm-petrels, Yelkouan Shearwaters, Scopoli's Shearwaters and turtle-doves using such technologies and is looking to invest more in such technologies to learn more about birds that breed in or migrate over the Maltese Islands in a bid to offer them more protection.
Through our studies, a vast amount of data has been collected, giving us an important insight into the biology and ecology of these species in Malta. The findings of all ringing activity is published in BirdLife Malta's scientific journal, il-Merill.
If you find a ringed bird
If you find a ringed bird in Malta please click one of the buttons below to contact us by email or send us a Facebook message. If you find a bird with a BirdLife Malta ring outside of Malta, please inform us as well. We will send you all the ringing details of the bird and you will help us learn more about its species! For more information about bird ringing please also write to us on [email protected].
You can also watch this feature in Maltese about bird ringing, which was aired on Animal Diaries, a programme on Television Malta (TVM).