BirdLife Malta has this year launched for the first time the #onthemove campaign to encourage people to enjoy, care about, and protect migrating birds.
During the campaign that will run from August 11th to October 16th, bird migration will be explored and explained on BirdLife Malta's social media platforms, sharing interesting facts and information on migratory birds and birdwatching hotspots, as well as activities and events to get involved in during this unique time of the year.
The #onthemove campaign focuses on three key elements:
ENJOY – Do you know why some birds fly in a V-shape and others in circles? Do all birds migrate? Throughout a wide range of online and in-the-field activities you will learn many interesting facts about bird migration and why Malta is such an important spot for the millions of birds that fly over it during autumn.
CARE – Migration routes are natural corridors for migratory birds which connect different habitats along their journey. Malta offers a unique location as a resting place during their long flight where birds stop to feed and rest. Caring for the environment and maintaining intact natural habitat is essential for birds to find the ideal conditions to refuel and rest before continuing their journey.
PROTECT – During migration, birds face different challenges and can encounter dangers that jeopardize their safety. From habitat loss and climate change, to the impacts of human activities such as indiscriminate hunting and trapping, birds are affected by hazards during their migratory journeys. With your help we can take action to combat threats and ensure their survival.
Follow the campaign on our social media!
Find out more about all the possible ways in which you can participate in the campaign. From reporting sightings of migrating birds to volunteering, you can be part of this spectacular phenomenon and give your support in protecting migratory birds and their natural environment. Read more below.
What is bird migration?
Many species of birds migrate seasonally. These movements, often north and south, are driven by changes in the availability of food, in the habitat or weather and have been perfected in time and space through evolution.
Birds migrate from areas where resources are scarce to places where they can find food and the ideal conditions for nesting. Migratory birds fly long distances along a migration route, which is called a flyway, and they can cover several thousands of miles during their yearly travels.
To undertake this extraordinary effort, the birds' bodies undertake physiological changes in preparation for the journey. When they navigate, they may use different strategies from using the sun, the stars, and even by sensing the magnetic field of the earth or by learning from more experienced birds of their own species.
Why is Malta important for bird migration?
The Mediterranean Sea is crossed by hundreds of millions of birds during migrating seasons. Malta lies at the very center of the African-Eurasian flyway and represents therefore a unique key spot for migratory birds.
Birds migrating between the European breeding grounds and the African wintering grounds find in the Maltese Islands the ideal place to rest and feed before reaching their desired destination. During the autumn, migrating birds crossing between the two mainlands seek shelter in Malta, making it the best place for spotting these birds in September and October.
We therefore get to see a whole array of European species crossing over Malta during migration period!
Report a sighting!
Our European birds are on the move! And we would love to hear about your encounters with them. Have you seen a flock of birds migrating in a particular formation? Have you encountered birds finding refuge in an afforested area near you or even your garden? Did you notice anything particularly remarkable about them?
If so, do let us know by logging your sightings into the form we've purposely created for this campaign. Click below for the online Google form.
Volunteer
Do you love nature and spending time in the Maltese countryside? Would you like to make the countryside safer for wildlife and for people?
If so, BirdLife Malta has the ideal opportunity for you! We are looking for motivated and enthusiastic local volunteers to help us watch over the migratory birds this autumn to ensure they pass over Malta safely on the way to their wintering grounds.
We are looking for two types of volunteers:
Nature Warden
Become our 'eyes in the countryside'! When you are enjoying autumn in the countryside please report anything you suspect to be a wildlife crime. We will be sharing lots of information on our social media channels and website what to look out for.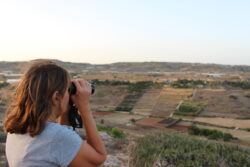 The great thing about this voluntary position is that absolutely anybody can become one of our Nature Wardens! All it takes is enthusiasm, an idea of what activities may be illegal, making a note of your location, and having something such as a mobile phone on you would be useful for recording video footage or photos.
Raptor Camp Volunteer
Join our organised camps to monitor bird migration! As a volunteer you can ensure that birds can safely fly through Malta. Learn how to monitor wildlife crime through our training session and meet like-minded people who care about wildlife.
You would join a team during shifts, and spend time in areas which are known for hunting activity. You would always be with a BirdLife staff member or an experienced volunteer. Our shifts take place during early mornings or late afternoons.
To get involved and make Malta a safer place for migrating birds, please contact us on: [email protected].  Please specify the following information in your email:
1. Name
2. Type of voluntary post
3. Why would you like to become a volunteer?
4. Any relevant experience
The volunteering opportunities above are for locals who want to join our annual Raptor Camp this autumn migration season. They apply for Maltese residents.