The first critical stage of the breeding season for the Yelkouan Shearwater started last week with the discovery of the first Yelkouan eggs of the season by our LIFE Arċipelagu Garnija project team!
The first eggs
The seabird team were conducting routine checks on the cliffs on Monday when they made the discoveries at two different nesting sites. We will increase our efforts in the nights following the full moon as these nights see a flurry of shearwaters returning to land during the darkest periods before the moon rises.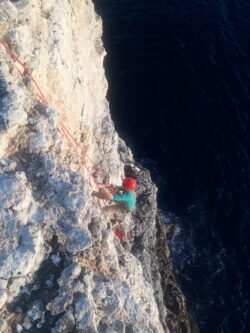 Rats in the colonies
Rat control operations at Yelkouan Shearwater colonies are underway again for 2020. This is an important part of the seabird team's work, as the early stages of a young Yelkouan's life are when they are most susceptible to predation by rats. This includes the time from when the egg is laid through to the first couple of weeks as hatchlings. Reducing predation pressure by rats is particularly essential as the Yelkouan's only lay a single egg each breeding season.
Both Brown Rats Rattus norvegicus and the smaller, more agile Black Rats Rattus rattus are non-native species brought to the Maltese Islands by boats between the late Bronze Age and Phoenician times. Rats are now present across all the islands and islets of the Maltese archipelago, except the islet of Filfla.
We deploy a combination of rodenticide and mechanical traps every year within key breeding locations where Yelkouans are known to breed year after year and where rats are persistent. So far targeted control efforts in problem areas have been successful, with less predation in the colonies occurring in 2018 and 2019 compared to previous years. However, rats still remain an ongoing challenge and one that requires future funding and commitment by the Maltese Government to guarantee the future survival of our protected seabirds.
By Natalie Robinson, Seabird Conservation Volunteer