The 14th of February marks the start of National Nest Box week. This week aims to encourage the putting up of nest boxes to provide safe places for birds to breed whilst helping to increase biodiversity and conservation. The 14th of February, St. Valentine's day, was chosen to begin this week as it is the date when most birds in the UK begin their courtship in preparation of the breeding season. Here in Malta, our Yelkouan Shearwaters are ahead of the curve. They start to return to their colonies in October and as a strictly monogamous species, they don't have to waste time finding a mate; needing only to reacquaint themselves with their partner after a long time apart.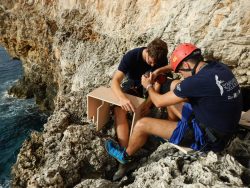 Yelkouan Shearwater burrows can extend far into the cliff. They are extremely narrow and twisting, meaning that even the most snake-hipped of our Project Wardens cannot access them. On one hand this is great news for the birds, but on the other it makes the collection of data extremely difficult. The deeper the burrow the less chance of visits from unwelcome guests, be they rodent or human in nature. Furthermore, a deep burrow is darker and quieter, providing a haven undisturbed by bright lights or loud noises that could impact negatively on a growing chick. The few burrows we can access are often exposed to the sources of disturbance and at high risk of predation by rats.
The nest boxes we use differ quite a bit from those that might be put up for small woodland songbirds. Ours must be large enough to accommodate a Yelkouan pair and a chick and strong enough to withstand whatever the Mediterranean storms can throw at them. They are made from plywood and have two chambers one is a narrow entrance tunnel and the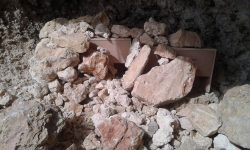 other a larger and darker chamber providing a suitable place for a female Yelkouan to lay her egg. Previous Yelkouan Shearwater projects in Malta placed nest boxes within colonies and in 2014 we had our very first Yelkouan pair occupy a nest box! Following this success, the LIFE Arċipelagu Garnija Project team continued constructing and deploying nest boxes at strategic locations within Yelkouan Shearwater colonies with the hope of providing additional nesting sites for prospecting pairs and aiding our research efforts, should they be occupied. The first ones were deployed in Autumn 2016 and as soon as 2017 breeding season started a new pair occupied one of them and at least four were prospected. We are extremely curious to see how many will be occupied this started 2018 breeding season!
By James Crymble, LIFE Arċipelagu Garnija Project Warden