Natural Nations is an Erasmus+ funded project, led by our UK long term partner Learning through Landscapes and in collaboration with BirdLife Malta, Naturskolan i Lund, Lunds Universitet, and Sociedad Espanola de Ornitologia SEO (BirdLife Spain).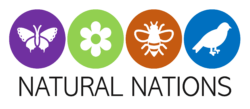 The project is a follow-up of the recent Polli:Nation project delivered across the UK, which supported teaching staff, pupils and parents from more than 250 schools. Polli:Nation enabled the group to find out what pollinators they already had in their school grounds and help transform them into pollinator-friendly habitats.
But "Natural Nations" will not just focus on pollinating insects; it will develop survey methods and encourage birds into school grounds too. We will produce resources to help schools identify birds in their grounds, as well as look at what changes can encourage more birds to visit e.g. habitats and food sources.
As part of the project, we will work with schools across the four countries to provide easily accessible resources that help pupils understand the importance of pollinating insects within the context of a 76% decline across Europe. Insects are also a crucial food source for many animals, including migratory birds which are also decreasing in numbers, and we will help schools understand this link too.
The third part of the project will focus specifically on culture. We will identify folk stories and songs from each nation that feature insects and birds, celebrating both what we have in common and what is individual about each nation's heritage.