Continued research under the supervision of Justus Liebig University of Giessen in Germany has permitted the satellite-tagging of three Turtle-doves by BirdLife Malta this spring. The effort replicates and adds on the journeys of Francesco, an Italian Turtle-dove originally satellite-tagged in April 2017 from Comino's bird sanctuary who continues transmitting to date. Research has been possible thanks to sponsorship by the Nature and Biodiversity Conservation Union, NABU (BirdLife Germany) who have chosen the Turtle-dove as the bird of the year for 2020 in Germany.
Three spring migrants satellite-tagged this May reveal plight and might of this vulnerable species
Research work which is led by Dr Petra Quillfeldt at Giessen University aims to track the migratory movements of European Turtle-doves across Europe and Africa. Turtle-doves are fitted with a 5g solar-powered satellite tag which is fitted as a backpack on the bird – charging a battery using sunlight, and transmitting the bird's GPS locations over a few days every time there is alignment with satellites orbiting the Earth. As a result the bird's movements are transmitted intermittently every other day.
Such research which is also being continued in Germany with Turtle-doves tagged at the end of the breeding season there, is contributing immensely to the knowledge on this species which is thought to have declined by almost half in the past 16 years in Europe. Such knowledge helps answer many mysteries about the European Turtle-dove – all information which can immensely help to protect its future. These include knowledge about those areas which are important stopovers for Turtle-doves along their migration between Europe and Africa – such as areas where they can rest and refuel; and how they tackle obstacles in their route – from the Sahara Desert to the Mediterranean Sea, to even the Alps for the northern populations of the species. It also enables the study group to determine how much birds have fidelity to their nesting sites – whether they come back to the same spot to nest every year, and whether their journeys takes them through the same route.
At a more local level the research is also helping us understand how weather conditions affect their migration, how timed their arrival to Malta is, year after year, and – ultimately on top of bird ringing studies – from where do birds passing through Malta originate, whether they come back through Malta during the autumn migration, and even where they settle in Africa for the winter.
Data to date collected from ringing studies through the recognised scientific EURING network, attributes the origin of Turtle-doves migrating through Malta to Italy, Czech Republic, Hungary, Germany, Poland, France, Croatia and Austria with varying health status amongst these populations in Europe.
Due to this year's spring hunting season once again coinciding with the peak migration of Turtle-doves and owing to the scale of illegal hunting ongoing on Turtle-doves last April, birds were purposely not satellite-tagged during their peak migration to avoid losing them. Three birds, named Marija, Hope and Virginijus were accordingly tagged on the 1st, 4th and 5th May after the birds were weighed, ringed and fitted with the satellite tag harness by BirdLife Malta Ringing Scheme licensed bird ringers Nicholas Galea and Martin Austad. Soon after tagging, GPS positions received at intervals kept our ringers on edge to see how the birds fared with their new equipment and how soon and to where they would leave the Maltese Islands. We are today releasing this video documenting the satellite-tagging process and their release.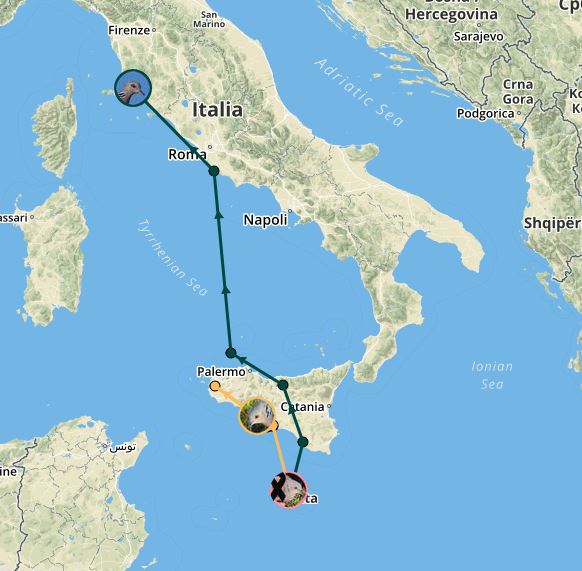 Marija, tagged on the 1st May, crossed over to Gozo and spent the night in the northern part of the island. Her last position was registered on the morning of the 2nd May just before 7am, following which its satellite transmission went completely dead. Given reports of illegal hunting on Gozo received from the same day, we very much fear Marija was illegally shot down on Gozo before she could continue on. Accordingly the country of origin of this bird shall remain unknown.
With the hope that the next one would not meet the same fate and migrate on, Hope, as it was appropriately named, was ringed and tagged on the 4th May. The female Turtle-dove remained on Comino and spent the night resting there before heading north to Gozo possibly during the day of the 5th May. Following that, she left the northeastern part of Gozo northwards, migrating through the night and reaching the southeastern coast of Sicily by the morning of the 6th of May. Much to our surprise, Hope has pretty much stayed put in the eastern part of Sicily, east of the city of Agrigento and seems to be settled for the breeding season.
The next morning it was the turn of the last Turtle-dove, a male named after the current European Commissioner for Environment, Oceans and Fisheries Virginijus Sinkevičius. Shortly after being tagged, Virginijus stayed on Comino for the day and then migrated overnight to Sicily arriving in less than a couple of hours! Signals received on the night between the 5th and 6th May positioned Virginijus half-way in open sea between Malta and Sicily throughout the night, reaching the area of Marina di Ragusa in Sicily just before midnight – a staggering 85km of open sea in a few hours. Virginijus crossed through the middle of Sicily reaching the northern Sicilian coast near Cefalù, then continued eastwards towards Palermo. In what seems to be his typical habit, Virginijus once again used the night to cross open sea, and navigated the Tyrrhenian Sea reaching the Lazio coast south of Rome. From then on, Virginijus continued north along the Umbrian coast, reaching a forest north of Punta Ala along the Mediterranean coast, by the 9th May. From then on, Virginijus seems to have also settled in for the breeding season, revealing to us that like Hope he is also an Italian Turtle-dove that uses Malta as a stepping stone between Italy and Africa.
"Such work, which we can afford to undertake with the support of our partners and with the dedication of our bird ringers, is placing Malta on the map of international research work on helping recover this declining European species. This contrasts immensely with the persecution this species suffers locally as a result of wrongly applied derogations in spring which have practically permitted its illegal hunting. It is unfortunate that even though we avoided the hunting season, we still have lost one of three birds to illegal hunting on Gozo – a dent in our research results which still showcases the reality these birds face throughout their journeys from one country to another" commented Nicholas Barbara, Head of Conservation at BirdLife Malta.
"With Hope and Virginijus having returned to safer grounds in Umbria and Sicily however, we have high hopes for the survival of the species. As expected of Turtle-doves in the coming weeks, their migratory journey will temporarily be over as they settle in to nest and raise another generation. Come late August, both Hope, Viginijus as well as Francesco – who is now a confirmed 'resident' of the Campania region in Italy – will once again cross the central Mediterranean en route to Sub-Saharan Africa."
You can follow their movements online on this live map developed by NABU: https://bit.ly/FollowTheTurtleDoves.
Read the Maltese version of the press release here. Learn more about our Turtle-dove satellite-tagging project here.
Watch this video with exclusive footage of the satellite-tagging process and release of Marija, Hope and Virginijus on Comino in early May. The video can also be found on our YouTube channel here.