Date:               Wednesday, 7 to Sunday, 11 November 2018
Time:               09:00-13:00, 17:30-21:30 (Wednesday & Thursday)
                         09:00-13:00, 17:30-22:00 (Friday)
                         09:30-22:30 (Saturday)
                         08:30-21:30 (Sunday)
Location:        Mediterranean Conference Centre, Valletta
BirdLife Malta will be participating with a stand at The Malta Book Festival for the first time. This is the most important book event in the Maltese calendar and it will be held between the 7th and the 11th of November 2018 at the Mediterranean Conference Centre in Valletta.
With a long list of participants from all sectors of the book industry and a cultural programme that features more than 50 major events in book launches, book presentations, dramatic performances, workshops and conferences, the Malta Book Festival is without doubt the largest and most extensive celebration of the book culture in Malta. The event currently has an attendance rate of 30,000 people.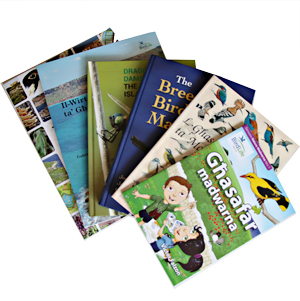 The festival – which is organised by the National Book Council – always takes place in the second week of November and for the duration of the event, publishers, book sellers and authors gather under one roof to make the most of this unique opportunity to promote and sell their books to the public. In addition to local talent, the festival also features interventions by foreign guests, some of whom are big names in the international literary scene.
Here at BirdLife Malta we continuously strive to produce high-quality publications for our members and supporters, but also for environmental enthusiasts and the general public to enjoy. These include scientific publications, ornithological journals and magazines, and informative books on birds and nature in the Maltese Islands.
This year, during the five days of the festival the public will have the rare opportunity to see our vast selection of nature publications all under one roof and purchase any of these books, including the most recent ones we have published this year. We shall also be holding a couple of activities at our stand, including storytelling sessions for children.
Have a look at our publications which will be available for purchase during the book festival here.
Where to find us
There will be two exhibition halls within the Mediterranean Conference Centre (MCC) in Valletta – La Sacra Infermeria will host publishers, NGOs and libraries (both local and foreign), whereas book sellers and bookshops will be hosted in the La Vallette Hall. Weekday mornings are reserved for school children and students and a special programme of events is prepared for them. Our stand will be in the La Vallette Hall on the lower-ground floor.
Click here for the programme of events of this year's book festival.