On the 23rd March, BirdLife Malta welcomed the arrival of a scout group from the Hungarian YMCA to take part in an international exchange with the Tarxien Scout Troup as part of the Action for Nature initiative.
Over the five-day exchange, the group of scouts took part in a number of activities at Foresta 2000 Nature Reserve, encouraging them to take an active role in protecting the environment and equipping them with valuable skills for the future.
After creating a seating area, building and reinforcing the eroded steps to the Red Tower, and litter-picking, the scouts held a Foresta Open Day to promote the restored woodland to the public and tourists.
As well as contributing to the conservation of the reserve, the scouts also enjoyed a cultural evening, music night and a fantastic nocturnal walk to Majistraal with the BirdLife Malta seabird's team to listen to shearwaters!
We heard from some of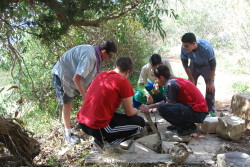 the scouts about their experience with the project and their time in Malta:
"It is really positive that we can work together as a group with the Maltese. I enjoyed playing the activities with the group very much. The music night was a very positive experience and it brought the group together." – Gabor, Hungary
"We all worked very well as a team. I gained lots of new experiences from the nocturnal nature night as I learnt new words and did different activities." – Peter Imre Fabian, Hungary
"This was the first time that I stood on the cliffs at night and listened for birds. The talk from the seabird's team was very interesting. The planning that we did for the open day was good as we divided ourselves into three groups – promotion, tour and games – so everyone had something to do and we worked well together." – Darmiano, Malta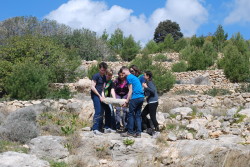 "The days were very productive day because everyone pitched in and helped and we did a lot of different actions. We improved the reserve for both animals and people." – Rebecca, Malta
The project was a really positive experience for the scouts involved and enabled them to learn more about nature and how to protect it, as well as developing their skills in public speaking, leadership, and team building.
Action for Nature will run for 20 months where there will be four similar exchange campaigns conducted in Malta, including Is-Simar and Għadira nature reserves.
By Jessica Irwin, BirdLife Malta Communications Assistant