On the frontlines is our monthly newsletter section covering the activities of BirdLife Malta's conservation, policy and nature reserve (Salina, Simar, Għadira and Foresta 2000) teams, together with an update about rare and scarce bird species observed.

Shearwater releases
We are pleased to announce that this year BirdLife Malta beat the record for successfully releasing back to the wild grounded Scopoli's Shearwaters! With the help of our seabird team, we managed to ring and release 36 individuals.
This is the time of year when fledgling Scopoli's Shearwater chicks leave their nests, which are located in isolated cliffside areas, for the first time. Unfortunately, many of these juvenile seabirds get disoriented by light pollution and end up stuck inland on their maiden flight, flying at night and use the light of the horizon to guide them away from the coast. Due to their inability to fly back out to sea, they end up stuck on roads, seafronts, ports, towns, and other urbanised locations with bright lights, risking their lives.
If you find a stranded Scopoli's Shearwater, please follow these guidelines:
Call BirdLife Malta on 2134 7645 (office hours) /7925 5697 (evenings and weekends);
Record the location where you found the bird as accurately as possible;
Approach the bird from behind. Pick up the bird using a clean cloth or towel, controlling the head and holding the wings against the body;
Place the bird in a well-ventilated cardboard box. Keep the box in a cool, dark place;
If possible, provide fresh water for the bird in a deep container. When the box is stationary, leave the container with water with the bird so that it can drink as needed. Do not attempt to rehydrate the bird yourself;
Do not attempt to feed the bird.
Wildlife crime
A number of illegalities have already been witnessed and reported since the opening of the trapping season derogation on 20 October. Unregistered trapping sites have been identified and reported, meanwhile a number of registered trapping sites with unattended nets left on site have also been reported to the EPU. This year, a total of 1,364 sites are legally authorised to trap Golden Plover and Song Thrush, while a further 2,616 are authorised to "research" finches. Our teams in the field are monitoring trappers and sites with the aim of keeping records of the illegalities.
Despite the peak migration is now over, illegal hunting incidents on highly protected species are still occurring. During the last month the Conservation team collected the third Osprey from the beginning of the season, a Montagu's Harrier, a Merlin, and three Common Kestrels, one of which was fitted with a ring from Finland. These incidents are clear evidence of how illegal hunting in Malta is affecting the migration of birds coming from the breeding grounds of different European countries.
If you witness any illegal hunting or come across a dead protected species, please call 119 and ask for the EPU (Environmental Protection Unit). You can also contact BirdLife Malta on 79255697 or send us a message on Facebook Messenger.
See below the (long) list of birds injured and recovered this month:
Injured Osprey & Finnish-ringed Common Kestrel recovered on 20-21 October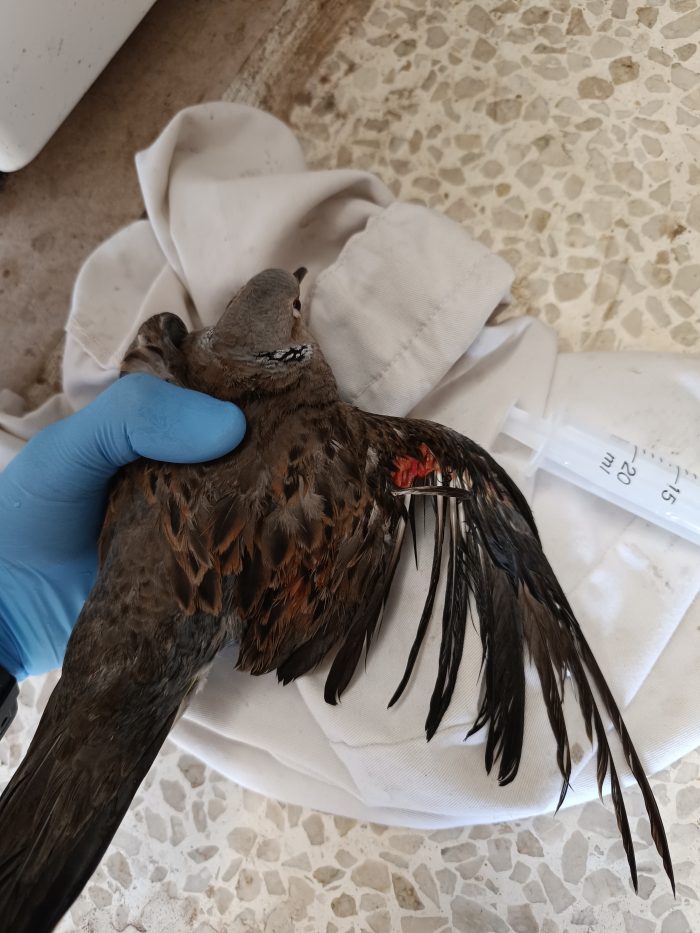 Rehabilitation
On the rehabilitation side, October is usually one of the busiest moments of the year due the incredible number of birds, shot or not, that need to be rescued. We also accomplished the rehabilitation and released back to nature a Common Kestrel, a Lesser Kestrel, a Common Swift stranded on the ground, a European Turtle-dove and a Common Quail. We also successfully rehabilitated, for the first time at our centre, an adult Grey Heron. All these birds now will be able to continue the migration towards their wintering grounds.
Unfortunately, we also have to say that many rehabilitated birds are waiting for the end of the hunting/trapping season to be released. This is due to all the many poaching activities regarding protected species that every day we assist to here in Malta.

Sightings
The month of October saw some interesting and rare birds flying into the reserve, with Greater Flamingos being seen on two separate occasions and apart from this, a Eurasian Spoonbill remaining in the reserve for around a week. There were also two Caspian Terns which could be seen in the reserve, however, sadly one of them appeared to be wounded, and did not appear again after the first day. There have also been a number of Greater Cormorants in the reserve, with four on one occasion being seen together, stopping at the reserve to do some fishing.
While the temperature has remained warm, there have also been signs that winter is coming, with wintering birds being seen in Malta. These include species such as the White Wagtail and some of the smaller gulls like the Black-headed Gull and the Mediterranean Gull. Slender-billed Gulls have also been seen on a regular basis, as well as Lesser Black-backed Gulls which can be observed regularly.
On the newly restored wetland, on the side of the reserve which can be found within the area of Kennedy Grove, a Western Water Rail can be seen on a regular basis and Common Snipes have been seen within the wetland. We also had a Jack Snipe! A Eurasian Wryneck and Common Reed-warbler can also be heard. There were also a number of days when a small flock of four Northern Pintails were seen and on a few occasions a Northern Shoveler could also be seen. Towards the beginning of the month a large number of waders could be seen, though this number has been going down. However, while the number of waders seems to be decreasing in the wetland, Common Kingfishers can regularly be seen flying or fishing in the area.
Works
There was quite a bit of work done in the reserve during this month. With a new island being constructed in one of the outer salt pans, which has seemed to be quite popular with a number of birds. Apart from this, a new fence was installed along the foot path which leads to the first barn. Some new boards have been set up and these will eventually contain panels with information.
Next to the newly restored wetland, a wooden gazebo has been placed, this is so as that in the future, people will have the opportunity to observe ringing sessions taking place next to the hide. A solar pump has also been set up so as that fresh water coming from an underwater reservoir can be moved to a pond. So as to control the movement of the water, a canal was dug out so the water can flow into this pond.
Sightings
October is usually the time to observe autumn migration in full swing while wintering species increase in numbers. This year, however, numbers of most species were particularly low. Wader species, as is normal for this time of the year, continued decreasing throughout the month however markedly low numbers of species which should be rather common in October such a Meadow Pipit, White Wagtail, Barn Swallow, Garden Warbler, Robin and Chiffchaff were noted.
Small numbers of Grey Herons and Cattle Egrets were recorded. A few Little Egrets (up to a maximum of six) were noted almost daily. Few Water Rails were recorded throughout the month and one Coot was seen on 6 October. A Moltoni's Warbler was frequently recorded at the beginning of the month. An adult Spoonbill was seen briefly on 18 October while a Great White Egret flew overhead on 9 October. A Little Grebe and 2-3 Common Kingfishers were recorded throughout the month.
Interesting sightings of other fauna during October included a Leopard Snake, and a juvenile Western Whip Snake. Various species of butterflies were noted including Painted Ladies, Red Admirals, Clouded Yellows, and a few individuals of the rare African Monarch. Amongst dragonfly species, Red-veined Darters were seen in good numbers throughout the month.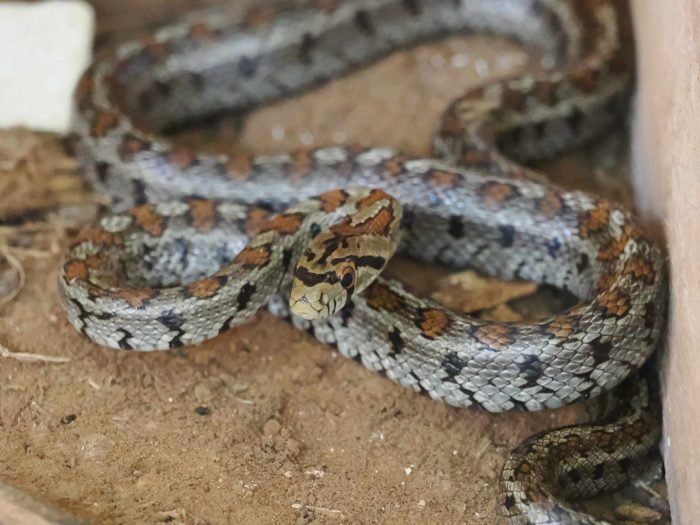 Works
Bird ringing was carried out on 18 working days with a total of 260 birds ringed during this month, mostly including Robins, Blackcaps, Chiffchaffs, Garden Warblers and Willow Warblers. Of particular note was a Barred Warbler ringed on 4 October, a male Eurasian Siskin ringed on 6 October, a Yellow-browed Warbler ringed on 10 October, a Little Bunting ringed on 13 October and a Spectacled Warbler ringed 16 October.
During October works were focused on the tree nursery. Works involved cleaning of leaf litter, weeding of pots, removal of dead plants, checking of drip lines and preparation of new pots filled with compost mix to be ready for planting cuttings and sowing of seeds from indigenous shrubs and trees. These will be used in various sites and habitat restoration as required.
Weekly irrigation and filling of freshwater ponds was required following weeks of no rain throughout the month.
Sightings
The warm temperatures continued throughout this month. Thus the autumn migration extended into this month with a good number of trans-Saharan migrants still passing through. But towards the end of the month the number of wintering birds continued increasing. The reedbed continued extending with new reeds still growing, triggered by the unusual warm weather. On the other hand, due to lack of rain water, water levels were still ideal for feeding. Thus, this attracted several species of birds to feed in the wetland.
One notable bird was a first winter Great Cormorant which spent the whole month feeding and roosting in the reserve. It was sometimes joined by another Great Cormorant which mostly stayed out in the bay. Another striking feature was the amount of Common Coots present. Following years with hardly any Common Coots present, this year there were already up to 12 present by the end of the month. A few ducks were also observed including a Gadwall and two Northern Shovelers. A Little Grebe in winter plumage arrived towards the end of the month whilst a good number of Common Kingfishers were still present. Meanwhile the number of Water Rails, often detected by their calls, also increased from the previous month. Two Common Snipes also took up residence mostly spending their time feeding in the shallower parts of the wetland. European Robins and Common Chiffchaffs continued arriving in good numbers, with Eurasian Blackcap also present but in smaller numbers.
Herons were regularly present with occasional small flocks of Grey Herons, as well as a late flock of 10 Black-crowned Night-heron. Little Egrets were regularly present as well as the occasional Cattle Egrets. A late Wood Sandpiper was present towards the end of the month.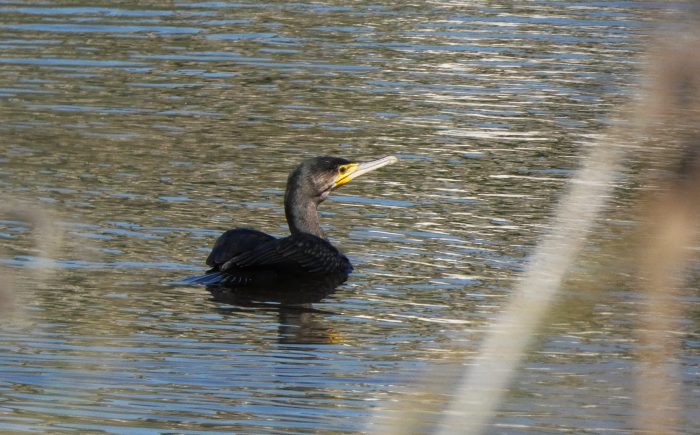 Sightings
October is the time when bird migration hits its peak, and Foresta 2000 is unquestionably a key spot to witness this spectacle.
A lot of European Robins have claimed most of the trees in the lush green canopy. Their melodious songs can be heard from every corner of the forest. And it's not just Robins; we've got other birds passing through too, like Sardinian Warbler, Eurasian Blackcap, Common Chiffchaff, and Willow Warbler, on their way to Africa and taking a break right here in our nature reserve. Barn Swallows are gracefully gliding through the air, especially during the morning and evening hours. Birds of prey such as Western Marsh-harrier and Common Kestrel were noticed as well throughout the month.
The second part of October brought us the sights of enormous flocks of more than 500 Common Starling. They're not just noisy; they can give you quite a scare when they suddenly burst out from the dark and dense Cypress trees.
But it's not just birds that steal the show. Butterflies are still fluttering about, and you can spot various species like the Maltese Swallowtail, Bath White, Painted lady, and Clouded Yellow butterflies. Some could notice a rarity – the African Monarch. Although these butterflies are lovely to look at, they're poisonous to eat. Animals that eat other butterflies seldom die after eating a Monarch but seem to feel sick. However, this doesn't deter Chameleons from indulging in a Monarch or two. So, if you decide to take a stroll in Foresta, you just might witness this intriguing behaviour.
Adding to the charm of the landscape, visitors could also notice the Blue Rock-thrush, typical residents of the western cliffs.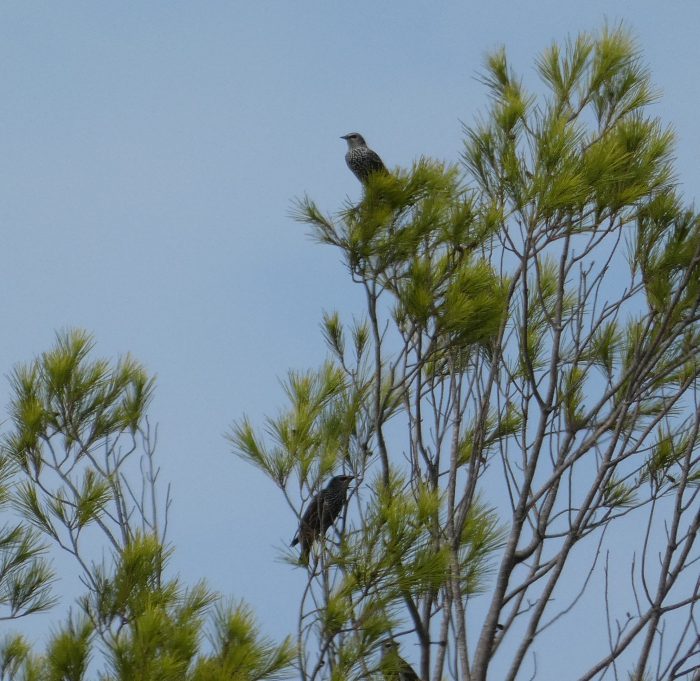 Works and visits
Regular checking and clean-ups have been done on the site, and the creaking main gate was fixed. The school visits to Foresta 2000 are back and we are very glad to welcome young explorers!

Enhancing protection for Maltese seabirds
In October, the Environment & Resources Authority (ERA) announced two interesting consultation processes which we found important to contribute to. Firstly, following the obligations under the Marine Strategy Framework Directive, ERA has drafted the first updated summary report on the Programme of Measures (PoM). PoM is aimed to ensure the Good Environmental Status (GES) for the marine environment. The presented report covers the progress on the implementation of relevant measures to ensure the GES for our three breeding seabird species by addressing the main challenges they are facing. We submitted a number of technical comments and called on ERA to ensure better protection of Maltese seabirds including by designating Selmunett and the cliffs of Qammieħ to Majjistral NHP, which are important for Yelkouan Shearwaters, as Special Protection Areas (SPAs) under the European Birds Directive.
Improving Air Quality in Malta: our input on ERA's policy document
Another crucial policy document ERA has been working on is the Air Quality Plan for Malta. This plan is called to improve the well-being of people and the state of the environment by reducing air pollution. Although the draft plan contains a range of well-developed measures, we noticed that the air pollution associated with the increased maritime and air traffic has not been addressed under it at all. In our comments, we also emphasised the importance of ensuring an effective air monitoring programme based on reliable and representative data. Additionally, we once again urged the government to support the initiatives to designate the Mediterranean as an Emission Control Area for Nitrogen (NECA) following such designation for Sulphur last year. A Mediterranean ECA will introduce the obligations for ships to switch to cleaner fuel and apply other technical measures to guarantee sustainability of shipping in the region.

Jack and Common Snipes at Salina
For some time in the past weeks, at the newly-restored wetland area at our Salina Nature Reserve, one could enjoy the rare sight of two different snipe species: the Common Snipe (Bekkaċċ in Maltese) and its rather scarce cousin, the Jack Snipe (Ċinkonja).
Nature photographers flocked to the area to see the Jack Snipe known for its typical springy, bouncing movement known as 'bobbing'. This fascinating behaviour, thought to disturb the small invertebrates that it feeds on (making them easier to find), is a trait commonly seen in Jack Snipes. In this video we released, the Jack Snipe can be clearly seen with its whole body bouncing vertically, as if its legs were springs.
The Jack Snipe is about two thirds the size of the Common Snipe, which it resembles in plumage. It has shorter legs and a straight bill that is longish but nowhere as long as the Common Snipe's. Both birds have brown plumage with pale stripes on the back and head, providing excellent camouflage. Both can be secretive, but the Jack Snipe is much more secretive and is rarely found feeding out in the open. The 'bouncing' action is often distinctive, though Common Snipes will sometimes bob slightly as well.
These birds have a habit of keeping still whilst hiding in short vegetation, making them very difficult to find. Thus, getting a good view of them is highly sought after by birders and photographers.
The birdwatching/photography hide at the Salina wetland area is open to the public and to photographers every Tuesday & Thursday from 11am to 5pm but needs to be booked beforehand for a small fee. Booking can be done only at the gate which is located next to the swings on the Kennedy Grove side. More details on the reserve webpage here.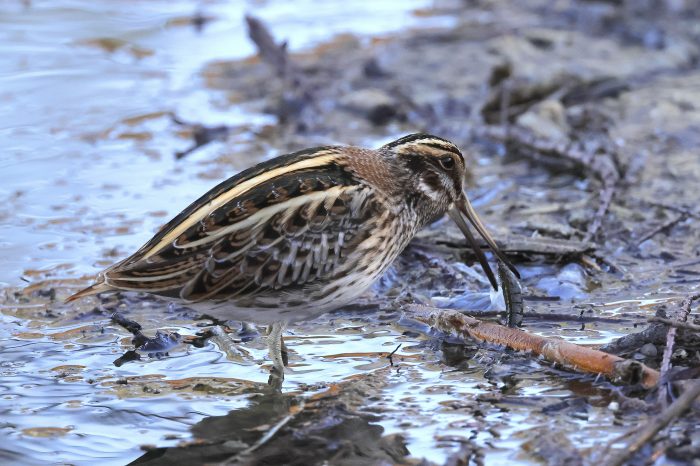 Spoonbill spends some days at Salina
From mid-October visitors to our Salina Nature Reserve were entertained by a Eurasian Spoonbill (Paletta in Maltese) that spent a few days at the reserve.
The Spoonbill could be observed in the salt pans, actively feeding on the abundant fish in the area, together with other birds such as a number of Little Egrets and Great Cormorants.
Word quickly got around with bird enthusiasts flocking to the reserve to see this beautiful bird and take photos of it.
The Spoonbill is a rather scarce migrant in Malta, both in autumn and spring and frequents wetland areas where if feeds on small fish and aquatic organisms by swinging its spoon-shaped bill (from where it gets its name) in the shallow water.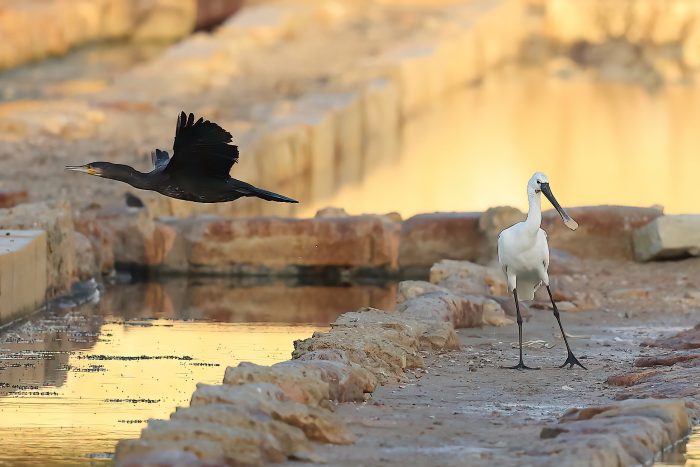 Eurasian Spoonbill at Salina
Steppe Buzzard seen at Buskett
Earlier on in October, a Eurasian Buzzard of the subspecies vulpinus (also known as Steppe Buzzard), was observed at our Buskett Raptor Watch Point. This subspecies breeds from north and eastern Europe to western Siberia. Unlike the nominate species (i.e. Eurasian Buzzard), this subspecies is a long-distance migrant wintering in Africa, some even reaching down to the Cape in South Africa. Since it is an eastern subspecies most of these birds migrate along the eastern Mediterranean particularly along the Bosphorus in Istanbul, Eilat in Israel and Batumi in Georgia, where at times it is the most common raptor seen during migration. In Malta however, it is a scarce spring and autumn migrant where singles are seen annually. Its plumage is very similar to the Eurasian Buzzard but is slightly smaller and lighter having a more agile flight with faster wing-beats.
Steppe Buzzard, a subspecies of Eurasian (Common) Buzzard, at Buskett
Credits
Words: Polina Venka, Charles Coleiro, David Attard, Ricardo Fernandes, Nathaniel Attard, Vera Tokmakova, Manuel Mallia
Photographs: Aron Tanti, Mario V. Gauci, Marion L'Huillier-Hunsinger, David Attard, Ian Balzan, Oliver Smart
Footage : Mario V. Gauci and Aron Tanti
Editing: Antoine Monnier and Nathaniel Attard