Date: Saturday, 2 December 2023
Time: 15:30-19:00
Location: Dwejra Tower, Gozo
Join Din l-Art Ħelwa and BirdLife Malta to celebrate the start of the festive season, the return of Yelkouan Shearwaters to our cliffs and also the start of a new project, LIFE Tetide.

We will meet at 15.30, with the event starting off at Dwejra Tower and a volunteer from Din l-Art Ħelwa, Malta's National Trust, will give us a brief tour of the recently restored Knights-era tower, which dates back to 1652. BirdLife Malta will then give a presentation on seabirds on Gozo, with a focus on the new LIFE Tetide project which has key actions in the Dwejra area. We look forward to discussing how the public can contribute to the conservation of shearwaters and petrels breeding on Gozo! To close off our Dwejra Tower visit, we will head up to the roof to enjoy the spectacular views at sunset and, who knows, perhaps some Christmas nibbles?
Next, we will head out along the cliffs and try our luck at hearing shearwaters, weather permitting. At this time of year, Yelkouan Shearwaters (Garnija in Maltese) are returning to the cliffs to claim their burrows and meet up with their mate. Shearwaters are often vocal at the colonies, once darkness has fallen and listening to their calls is one of the best ways to appreciate these birds locally. Malta is home to around 2,000 breeding pairs of Yelkouan Shearwater, and the cliffs on either side of Dwejra hold around 150 pairs.
We will only head out on the cliffs if the weather conditions are favourable but can stay longer on the tower roof as an alternative. In fact, Dwejra is a Dark Sky Heritage Area and we hope for clear skies to enjoy the stars too. Shearwater-calling behaviour is variable, and we have no guarantee that we will hear any shearwaters, but we encourage participants to stay till 19:00 in order to increase the chances.
Good footwear and the ability to walk on rough terrain in order to reach the tower, but even more so to join on the cliff walk afterwards, is essential. On the cliff walk we will be walking around 1 km on rough and rocky paths back and forth. We will walk back in the dark, so surefootedness is essential. BirdLife Malta will provide torches with red light for participants on the colony walk. We use red light to avoid disturbance, since shearwaters are sensitive to bright light. We are visiting a Natura 2000 site, with protected and vulnerable species. Keeping our disturbance to a minimum is essential.
👉 Participation is against a €5 donation to Din l-Art Ħelwa for hosting the event at the tower and can be paid in cash on the day or here.
👉 Participation will be capped to a maximum of 20 persons, so booking is needed. Please reserve your place by clicking on the booking button below and filling in the Google Form.
Please note that children of 15 years or younger have to be accompanied by an adult. The event will not be postponed if the weather will not allow for a colony walk after the event at the tower.
Follow our Facebook event for updates! If you have any questions, email us at [email protected].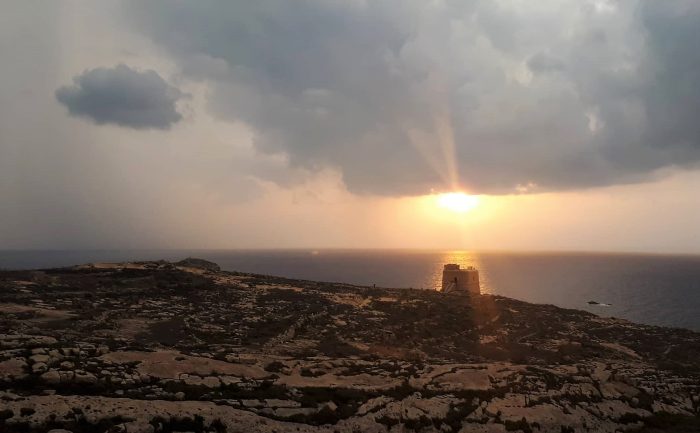 What to bring!
𝗘𝘀𝘀𝗲𝗻𝘁𝗶𝗮𝗹𝘀: Sturdy footwear, drinking water, warm and weatherproof clothes.
𝗢𝗽𝘁𝗶𝗼𝗻𝗮𝗹: Torch with red light and binoculars (for pre-sunset birdwatching).