Date: Sunday, 12 March 2023
Time: 13:00-16:00
Location: Salina Nature Reserve
We are delighted to announce that on 12th March, BirdLife Malta will be hosting a youth public speaking workshop at Salina Nature Reserve in collaboration with Toastmasters Malta!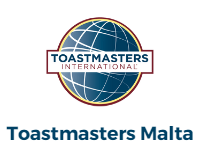 Toastmasters is an international non-profit educational organization that teaches public speaking and leadership skills through a worldwide network of clubs. The organisation has helped people from diverse backgrounds become more confident speakers, communicators, and leaders.
"Saving the planet is now a communications challenge", Sir David Attenborough recently stated, and Toastmasters Malta will help you to boost your ability to speak in public and share about the importance of protecting the Maltese natural environments and birds.
We invite you to join us and take advantage of this unique opportunity!
Toastmasters public speaking experts will teach you how to prepare and deliver an effective speech. After gaining the necessary knowledges, you will have plenty of opportunities to practice and receive expert feedback.
Why should you register?
You will learn how to influence the world around you;
You will become a go-to person for ideas and solutions;
It's free and there are snacks!
So, hurry up and reserve your spot below, and follow the Facebook event for updates!