The European Commission has today taken new action against Malta following the Government's decision last spring to reopen a spring hunting season for European Turtle-dove.
Between 10th and 30th April 2022, the Government opened a spring hunting season for Quail and also for Turtle-dove, following the lifting of a moratorium thanks to which hunting for Turtle-dove – a species classified as Vulnerable to Extinction – had not been allowed since 2017.
European Commission issues additional Letter of Formal Notice on spring hunting of Turtle-dove
Some time ago, the Commission announced its decision to send an additional Letter of Formal Notice to the Maltese Government in which it calls on the Government to cease spring hunting for Turtle-dove. With this latest development, the Commission has extended its action against Malta to also cover the Turtle-dove following a similar warning sent to the Maltese Government in December 2020 when the season was opened for Common Quail. In fact, the Commission's statement clearly states that this is an additional warning by the Commission to also address its concerns regarding spring hunting of Turtle-dove because last April Malta extended the spring hunting derogation to cover the Turtle-dove. Malta was given two months to respond and address the shortcomings raised.

This means that the Malta Government has until the 15th of April to respond, which possibly clashes with the dates when the spring hunting season usually opens. Last year, in fact, the season was opened between 10th and 30th April. Whilst hunting for Quail was allowed during all the days of the season, hunting for Turtle-dove was permitted from the 17th onwards.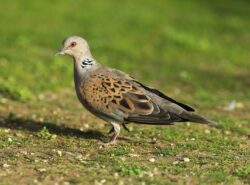 A Letter of Formal Notice is the first of three steps in an Infringement Procedure initiated by the European Commission against an EU Member State when there is a breach of the environmental laws, in this case the European Birds Directive. Following this, in the absence of a satisfactory response, the next step would be a Reasoned Opinion and if the Government continues to ignore the EC and does not rectify its position, the last step would be a court case at the European Court of Justice (ECJ).
Today's action announced by the EC once again proves BirdLife Malta right. Last November BirdLife Malta took the Government to Court to challenge the decision to open a spring hunting season on Turtle-dove in April 2022. In the court case, BirdLife Malta is requesting the Maltese Courts to declare this practice as illegal, in a bid to stop once and for all the spring hunting of Turtle-dove.
Read the Maltese version of the press release here.