* Over 170 illegalities witnessed by BirdLife Malta's Raptor Camp volunteers in three weeks
* Protected birds shot before and during autumn hunting season
* Police units down to one on Malta, and zero on Gozo despite peak migration
* BirdLife Malta to focus its efforts on Gozo in the future
The past days saw the end of this year's three-week long Raptor Camp in which an average of three teams of volunteers and staff from BirdLife Malta were out in the countryside to monitor bird migration along with the hunting activity during the start of the autumn hunting season.
In a press conference held today at BirdLife Malta's offices in Ta' Xbiex, BirdLife Malta President Darryl Grima, CEO Mark Sultana and Head of Conservation Nicholas Barbara explained that once again this autumn hunting season was characterised by the illegal killing of various protected birds, mainly herons and birds of prey that were migrating south over Malta.
From the 1st of September, there were 28 protected birds that were retrieved by the general public and handed to BirdLife Malta or the police and later confirmed as illegal hunting casualties by the government vet. The most iconic species was a Greater Flamingo that was shot down off the coast of Gozo. Illegal killing of protected birds remains rampant with a surge in the past five years. In fact, from 2018 to date, 700 protected birds were confirmed as illegally shot in contrast to 266 in the previous five years (2013–2017).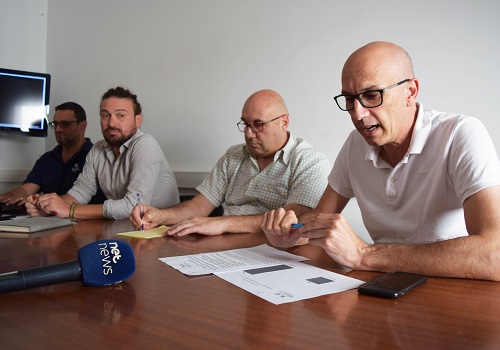 The teams participating in this year's Raptor Camp have witnessed over 170 illegalities mainly the use of electronic callers, protected birds seen being shot down or others flying with evident gunshot wounds.
Apart from these illegalities, what was very evident to BirdLife Malta was the lack of police presence. On various occasions their presence at locations where illegal hunting was happening was only triggered by our calls to intervene. BirdLife Malta Head of Conservation Nicholas Barbara stated: "When the Environmental Protection Unit (EPU) was called and officials could attend to our call, they did so efficiently and with positive results. This was however not the norm as it seems that the EPU at times had only one vehicle available for the whole island. In fact, there were times when police could not attend immediately to our calls since they were tied down with another incident". It is clear and evident that the EPU is understaffed and is low on resources, making it easy for the undisciplined hunter to feel at ease when breaking the law.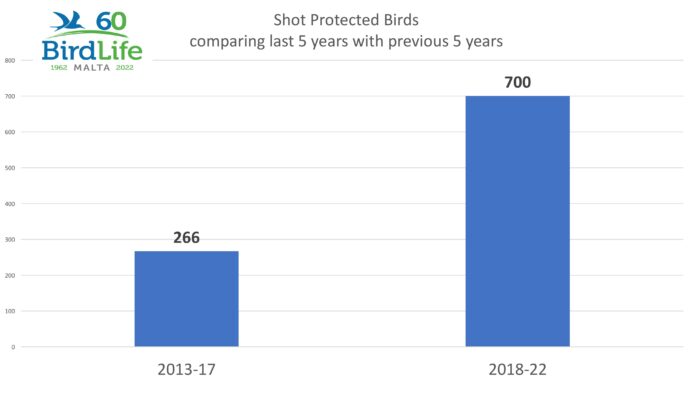 One has to keep in mind that during September, Malta was also allowing the killing of the Vulnerable European Turtle-dove (Gamiema). Hunters were supposed to be declaring their catches of this species as a quota of 500 was imposed. While last year, within 11 days, 500 Turtle-doves were declared and the season for Turtle-dove was closed, this year it seems the quota was not reached. Due to the lack of police presence, hunters did not feel they needed to worry if they did not declare their catches as the risk of being caught was minimal. "It is practically impossible that 10,000 hunters did not catch 500 Turtle-doves during the first weeks of September. Since the autumn catches are creatively used to justify the spring hunting derogation for Turtle-dove, Malta is breaching the European Birds Directive by not imposing strict control measures," continued Nicholas Barbara.
In Gozo, police enforcement was practically absent. Not only is EPU not allowed to operate in Gozo, but it seems the Gozo Police were always reluctant to be in the countryside when they were called in. One case in particular was when the team called for assistance with an illegality and police replied they were unable to attend. However, on another occasion when police were called upon by a hunter claiming a BirdLife Malta team trespassed, the police rushed to the site rather efficiently! BirdLife Malta has no doubt that political interference is not allowing proper enforcement to be carried out, especially in Gozo. In fact, in view of this, BirdLife Malta will be from now on focusing a lot more on Gozo in order to bring to light the reality of a free-for-all situation on the island.
Read the Maltese version of the press release here.
Scroll further down or click here to watch a video edit summing up some of the illegalities witnessed during the autumn hunting season 2022.