Dates: Friday, 15 & Saturday, 16 July 2022 and Friday, 29 & Saturday, 30 July 2022
Time: 18:00-21:00
Location: Ta' Ċenċ Cliffs, Gozo
Our biggest summer adventure is back again for 2022, let's set sail!
Join us for a delightful sunset sail by the dramatic and breathtaking Ta' Ċenċ Cliffs in Gozo where we will witness the little-known spectacle provided by flocks of Scopoli's Shearwaters (Ċief) rafting on the surface of the sea before they head back to their nests in the cliffs after sundown. This is one of Malta's most spectacular natural phenomena – something you should not miss!
Dates, meeting points and times:

We have four sunset boat trips occurring this July:
Friday, 15th July 2022 (TRIP FULLY-BOOKED)
Saturday, 16th July 2022* (TRIP FULLY-BOOKED)
Friday, 29th July 2022 (TRIP FULLY-BOOKED)
Saturday, 30th July 2022 (TRIP FULLY-BOOKED)
*The boat trip on Saturday, 16th July will be an exclusive trip for Gozitan residents, departing and returning to Mġarr Harbour, Gozo. Our meeting point will be here.
All the other boat trips (15th, 29th and 30th July) will be departing and returning to Ċirkewwa Comino Ferry Jetty in Malta, beneath the kiosk, here.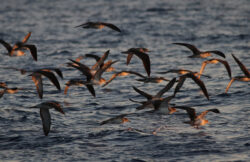 Please arrive at 18:00 for an 18:30 departure. The boat will not wait for latecomers, so be sure to leave with plenty of time to spare. The boat will return to the jetty at around 21:00.
Prices:
Members: Adults €13, Children (5-12 years) €10
Non-members: Adults €15, Children (5-12 years) €10
Booking and payment (required):
To book, visit our online shop and click the boat trip you wish to board and select the appropriate ticket/s depending on your member status and age. You can purchase more than one ticket at a time, but please provide details of all those booked on the checkout page. To purchase a reduced Member's (Adult/Child) ticket, you will need to insert your BirdLife Malta Membership Number on the checkout page. Please note that no form of payment other than through the online facility will be accepted. There is a maximum of 60 people per boat trip and bookings will be taken on a first-come, first-served basis.
After booking, you will be issued an automatically generated email receipt, which will act as confirmation of your booking. Please bring this with you on the day of the boat trip as proof of booking. You need to register and present this receipt to be allowed on the boat.
Refunds will not be made if cancellations are made after the booking closing date. In the unlikely event of cancellation due to bad weather, we will reschedule the cancelled trips.
Booking will be open until Thursday 30th June 2022 unless all seats are taken up before.
Due to safety reasons, we cannot accept anyone under the age of 5 years old onto the boat trips. Photos and footage will be taken before and during the trips for promotional purposes by BirdLife Malta.
If you have any questions, do not hesitate to contact us at [email protected].
Follow the event on our Facebook page for updates!