Date: Thursday 9, Thursday 16 & Thursday 23 September 2021
Time: Anytime between 08:00–12:00
Location: Salina Nature Reserve
An event to celebrate the Champions of the Flyway's Year of the Dove & World European Turtle-dove Day 2021
As part of the Champions of the Flyway's #YearOfTheDove campaign (May 2021–May 2022) – in which BirdLife Malta is one of the participating partners – and to celebrate World European Turtle-dove Day, BirdLife Malta wants to promote and celebrate this beautiful and iconic bird species and raise awareness of the threats it is facing and its Vulnerable status. To mark the occasion, we are asking our members to get involved in a creative project to help spread awareness and raise the profile of the declining Turtle-dove.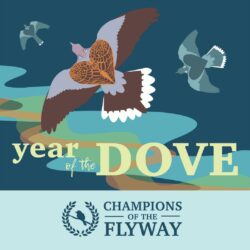 We would like you to look through the information pack we've prepared and learn more about the incredible Turtle-dove! Once you have discovered more about this magnificent bird, we would like you to create a drawing of Turtle-dove and write a reason why you think the bird should be better protected. You can use the template available in the information pack, or you can draw your picture freehand.
Come to Salina Nature Reserve between 8am and 12pm on any Thursday of September between the 9th and the 23rd, and we will have resources and BirdLife Malta staff available to provide knowledge and help you with your artworks.
If you'd rather do your drawings at home, that's fine too! Once you have completed your drawing, come to Salina Nature Reserve to drop it off, or you can email it to us on [email protected]. The deadline for this is 23rd September 2021.
After the 23rd we will create a huge collage of all of the artworks and exhibit it at our Għadira Nature Reserve for everyone to come see over the first weekend of October. This will be part of the events we're preparing for the EuroBirdwatch21 weekend on 2nd and 3rd October (more details about these events will be announced soon).
We also encourage you to send us videos of yourselves holding the artwork and explaining why Turtle-doves are important to you and why we should work harder to protect them. We will use this video to encourage politicians and decision-makers to increase protection measures for the Vulnerable Turtle-dove.
To register your interest and to receive the information pack and colouring-in guide by email, please fill in this form. You can also download the information pack at https://bit.ly/TurtleDoveInfopack.
We look forward to receiving all of your drawings and artworks! Let's all do our part to help protect this endangered species!