As the summer months come to an end, and with colder temperatures starting to be felt in northern Europe, birds are once again preparing for their impressive migratory journeys to Africa. Most of the migrating birds would be on their first ever migration after hatching last spring.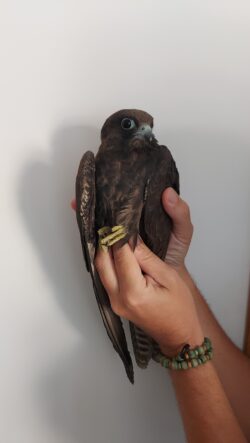 The first flocks of herons, Bee-eaters and birds of prey have already been seen in Malta, and with them various gunshots were heard by BirdLife Malta teams and volunteers.
"The first illegal hunting casualty has already reached our offices. An Eleonora's Falcon (Bies tar-Reġina in Maltese) that was found injured in Marsalforn, Gozo on Sunday 29th August was taken to the vet and fortunately it was recommended for rehab after it was operated upon", BirdLife Malta Head of Conservation Nicholas Barbara stated. This protected raptor was illegally shot during the closed season, just a few days before the start of this year's autumn hunting season, which opens today and runs until the 31st of January 2022.
Protected Eleonora's Falcon illegally shot in Gozo
"Enforcement of biodiversity protection, especially birds, will remain the biggest hurdle in solving the problem of those that think they are above the law. The fact that there is a Wild Rabbit hunting season during the closed season for bird hunting allows a smokescreen for those that want to target protected birds from the first days of migration. This does not help the enforcement officers, and this was amplified when the laws regulating rabbit hunting were weakened a few years ago – something which only benefitted the illegal hunters."
BirdLife Malta CEO Mark Sultana explained: "We have seen increasing numbers of protected birds being shot year after year and yet the Government does not seem to care much. There is no will or responsibility in safeguarding birds and if it weren't for the efforts of BirdLife Malta and the Committee Against Bird Slaughter (CABS), very few culprits are ever caught. We need the Government to understand that improving enforcement and enacting proper laws does not go against its political will of supporting the genuine hunters."
BirdLife Malta will, in the coming weeks, once again be in the countryside with a number of teams monitoring bird migration and the hunting activity and will work closely with the police. We urge the public to enjoy this year's autumn migration and to report any incidents or suspected illegality to BirdLife Malta on 7925 5697 and to the Environmental Protection Unit (EPU) of the Malta Police Force on 119. We also call on as many people as possible to join BirdLife Malta in order to help us strengthen our voice to protect more birds and their habitats.
Read the Maltese version of the press release here.