BirdLife Malta welcomes today's news that the European Commission has once again stepped in to protect birds in our country. This has happened as a result of the farcical finch trapping derogation applied by the Gozo Ministry under the pretence of a scientific study.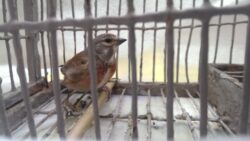 In a decision announced today, the Commission's Directorate-General for Environment has discarded Malta's justification to allow a finch trapping season last year under the false guise of research. The European Commission's press release states that a Reasoned Opinion (which is a second official warning, following the Letter of Formal Notice sent to the Maltese Government last December) has been issued in relation to the infringement case the European Union initiated against Malta at the end of last year.
Moreover, whilst stating that the reply from the Maltese authorities to this was unsatisfactory, the Commission this time round has given Malta just one month to remedy the situation, or potentially face another case at the European Court of Justice (ECJ). The European Commission stated: "A shortened deadline aims to prevent serious and irreversible damage to the environment, in case the Republic of Malta intends to open yet another trapping season".
An ORNIS Committee meeting planned for today was set to discuss the next finch trapping season – an item that was placed on the agenda by the Wild Birds Regulation Unit (WBRU). The meeting was, however, cancelled yesterday.
Once again BirdLife Malta has been proven to be on the right side of bird protection. This communication is also a stern warning to the Maltese Government that the European Union will not tolerate anymore the abuse of the European Birds Directive.
In a reaction, BirdLife Malta CEO Mark Sultana stated: "The Government has a decision to take. The right decision would be to stop the finch trapping practice once and for all. If this doesn't happen, Prime Minister Robert Abela will be leading Malta back to the European court to defend the indefensible and apart from further discrediting our international reputation on environmental matters, it will be a case of wasting taxpayers' money for a handful of votes at a time when the Government should be investing in transforming Malta into a green economy. We urge the Prime Minister to be courageous enough to see the writing on the wall, and act accordingly".
Read the Maltese version of the press release here.