Date: Saturday, 8 May 2021
Time: 13:00–16:00
Location: Salina Nature Reserve
We invite you to join us on the 8th May 2021, as we celebrate World Migratory Bird Day 2021 (WMBD 2021). This event also links to two of our wonderful spring campaigns: Spring Alive & #onthemove.
World Migratory Bird Day is the ultimate bi-annual celebration of the amazing endurance of migratory birds as they travel between their wintering and breeding grounds. The theme for WMBD 2021 is "Sing, Fly, Soar – Like a Bird!" and we would love to help you capture the wonderful birds that migrate through Malta as they sing, fly & soar!
This will be a beginners' photography workshop, suitable for any children aged 8 to 12 years old, and will teach you how to photograph nature without any fancy equipment. Anyone with access to a smartphone or tablet can learn to take great nature photos, and we will be talking you through some simple tips and tricks to improve your everyday nature photography skills. Spring Alive, organised by our BirdLife International partners, aims to encourage children's interest in nature and the conservation of migratory birds, so we think this is a great event to help your children connect to the nature visiting us this spring!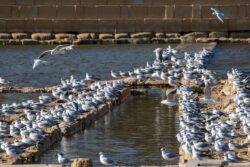 There are spaces available for six groups for this event. We are taking every precaution to stay safe and follow the current government COVID-19 guidelines. As a result, we will be splitting the groups between twp time slots: 13:00 and 14:00. Please make sure to arrive punctually. Remember that the current government COVID-19 restrictions state a maximum group of four in public, not including households, so please stick to social distancing rules when in the reserve.
To register for this event, please email [email protected] by Thursday 6th May to request which time slot you would like to attend. Bookings will be taken on a first-come, first-served basis so we cannot guarantee your requested time will be available.
You can also see what our BirdLife partners around the world are doing to celebrate this day by visiting their events page.