Date: Saturday, 8 May 2021
Time: 08:00-09:00
Location: FB Live from Għadira Nature Reserve
We invite you to join us as we celebrate World Migratory Bird Day 2021 and there is no better way to do this than by joining members of our bird ringing team for another Facebook Live demonstration from our nature reserves!
World Migratory Bird Day is the ultimate bi-annual celebration of the amazing endurance of migratory birds as they travel between their wintering and breeding grounds. The theme for WMBD 2021 is "Sing, Fly, Soar – Like a Bird!" You can also see what our BirdLife partners around the world are doing to celebrate this day by visiting their events page.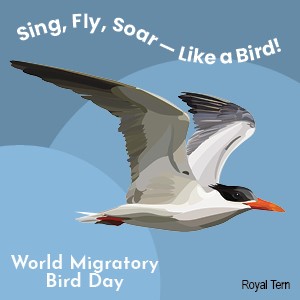 Did you know we are able to learn a lot about a bird's migration pattern by taking part in the scientific study of bird ringing? It is a conservation tool which not only enables us to monitor their migration patterns, but also gives us an insight into aspects of the birds' lives such as survival rate and productivity.
This event also helps to highlight our #onthemove campaign, encouraging people to enjoy, care about, and protect migrating birds during the spring migration season. During the COVID-19 pandemic, many people around the globe have rediscovered the joys of nature and birds, and the profoundly positive impact they have on our health and well-being. The past 12 months have highlighted the close connection between human health and the health of our planet, showing us that all our lives are interlinked, and that unless we work together, we won't succeed.
We are hoping to welcome you back to our reserves as soon as possible and start inviting you to in-person events, but for now you can safely join us from the leisure of your home!
This event will be streamed live from our Għadira Nature Reserve and will also give you the chance to put your questions to a licensed bird ringer from the BirdLife Malta Ringing Scheme, who will be leading our session.
And who knows… we could see a rare bird being ringed on the day!
We have already streamed another two similar sessions live from our nature reserves during this year's #onthemove campaign and we now look forward to meeting you online again on Saturday 8th May!
The Facebook Live session will be dependent on the weather conditions on the day, and the number of birds caught. Please follow our FB event for the latest updates. We will not be taking bookings for this online event, which is free for all participants, however marking yourself as GOING on the Facebook event will help us get an indication of the audience we should expect!