Date: Saturday, 22 May 2021
Time: 16:00–17:30
Location: YouTube
BirdLife Malta and Majjistral Nature and History Park would like to invite you to take part in withNature2020 – an international event to raise awareness on the importance of protecting our local nature and ecosystem.
On Saturday 22nd May 2021 we will be celebrating the International Day for Biological Diversity! BirdLife Malta, together with Majjistral Nature and History Park, are aiming to give a strong message on the need to protect the diversity in our local ecosystem. This will be done by laying 500 pieces of coloured clothing on the ground which will generate a giant image from above of an endangered plant or animal species. For Malta we have chosen the Yelkouan Shearwater.
Our endangered species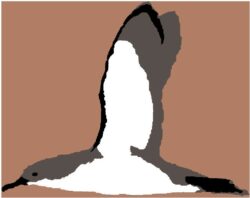 The Yelkouan Shearwater (Garnija) is one of Malta's breeding seabirds and is endemic to the Mediterranean region. Malta is a crucial location for this seabird species as 10% of the world's population breeds on the Maltese cliffs. This protected seabird species is listed as Vulnerable on the International Union for Conservation of Nature (IUCN) Red List of Threatened Species. Its population has rapidly declined and its status has shifted from Least Concern, to Near Threatened and to Vulnerable since 2008.
Why this event?
By creating a visually memorable event, we are aiming to give a strong message on the need to protect the diversity in our local ecosystem. For the one million species at risk of extinction, the coming decade will be decisive.
withNature2020 will be documented live on YouTube and other social media (Instagram/Facebook/Twitter) where a tapestry of species will unfold through time and space, being revealed at 17:00 local time in each location. The project, and coverage of the images created around the world, will be developed as a documentary for the BBC World Service Radio. This public demonstration will be used to appeal to the participants at COP15 to enact stronger policy on biodiversity protection.
The full broadcast of the withNature2020 project will start already at 07:00 CET time, with the first image to be broadcast from Auckland, New Zealand. The image of the Yelkouan Shearwater created in Malta will go live between 16:00-17:30 (local time). The broadcast is scheduled to end at 00:00 UTC on 23rd May 2021 after the final image is shown, from Lakewold Gardens, Washington State, USA.
And this is where we need your help!
You can participate by donating items of clothing in specific colours: WHITE, GREY or BLACK. This is a great chance to get rid of some old clothes in this seasonal wardrobe change!
In Malta, we are aiming at collecting at least 500 coloured clothing to create a big impactful image of the Yelkouan Shearwater that will be photographed from above. After the event, clothes will be donated to The Inspire Foundation charity. If you are interested in taking part, fill in our Google Form (press on the button below) and we will contact you with further details on how and where you can donate. The drop-off location for the clothing is Salina Nature Reserve and you can leave your clothes there up to 20th May.
Don't have any clothing to donate? Not to worry! There are many ways in which you can participate:
Join in and be a part of the bigger picture! The fabric of Nature; of which we are part and on which we depend. #withNature2020.
More information on the project
withNature2020 is a project conceived by British artist Emma K. Thomas as a response to the extinction crisis. This global collaborative artwork will unite diverse communities across the world on the International Day for Biological Diversity, 22 May 2021. Giant images of endangered plant and animal species will be created in different locations worldwide. The event is being hosted in multiple locations around the world. Learn more about the project here.
Spread the word with your family and friends. Alone we can do so little, together we can do so much!