"The Nationalist Party must uphold the spirit of the Acquis Communautaire and not buckle under pressure from the hunters' lobby.  If the PN wants to respect public opinion it cannot backtrack on its commitment to implement EU directives on the protection of nature and birds".
This was stated by BirdLife Malta CEO Mark Sultana in a meeting with Opposition and PN Leader Dr. Bernard Grech which was held yesterday at the PN Headquarters.
BirdLife Malta Council delegation meets Opposition and PN Leader
The recent Infringement Proceedings initiated by the European Commission against the Maltese Government on all active hunting and trapping derogations and the surprise handover of Miżieb and Aħrax Woodlands to the hunting lobby were amongst the topics discussed during the meeting with the PN Leader which was attended by a BirdLife Malta Council delegation.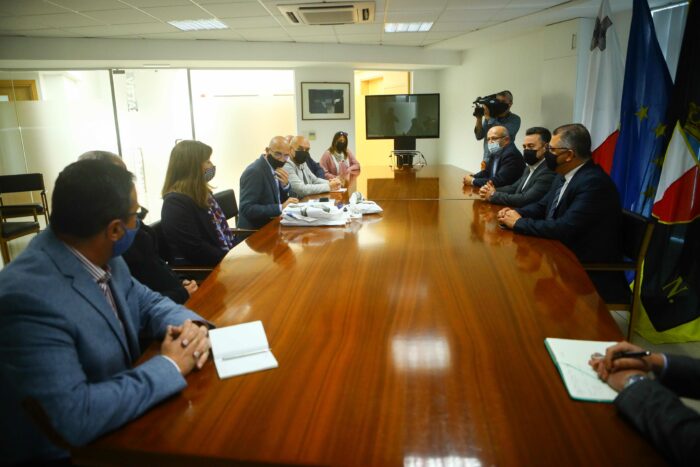 BirdLife Malta officials explained the setup of the organisation and the different work it carries out from education, to conservation, bird ringing, reserves management and the various LIFE and Erasmus projects it runs. Dr. Grech was particularly interested to learn how BirdLife Malta is a net contributor to the Maltese economy through the funding it attracts to Malta from several LIFE projects it led throughout the years and also that it has 20 employees in its ranks.
In regard to hunting and trapping, CEO Mark Sultana explained the present situation following the removal of bird protection enforcement from the Environment & Resources Authority (ERA) and the creation of the Wild Birds Regulation Unit (WBRU) which is run by trappers. Also mentioned was the vote-catching move by the Labour Government to move the WBRU under the remit of Minister for Gozo Clint Camilleri and how several aspects of the Treaty negotiated with the European Union prior to Malta's accession to the EU have been continuously ignored by the present Government leading to action being taken against Malta in past years.
Dr. Grech was also presented with the results which show how last year was a record one for illegal hunting casualties due to poor enforcement and weakening of laws by the Government.
Bernard Grech was accompanied by Shadow Minister for the Environment and Climate Change Robert Cutajar and Shadow Minister for Agriculture, Fisheries and SMEs Edwin Vassallo. The BirdLife Malta delegation was led by BirdLife Malta President Darryl Grima, Secretary General Saviour Balzan and CEO Mark Sultana. BirdLife Malta Council members Ray Galea, Kathleen Galea and Denise Casolani, together with BirdLife Malta Communications Manager Nathaniel Attard were also in attendance.

Read the Maltese version of the press release here.