In the past weeks and months students have been experiencing local wildlife from the comfort of their own homes using BirdLife Malta's virtual educational field visits and weekly online lessons.
Hundreds of teachers and students have been learning about Maltese wildlife through virtual field visits and weekly nature LIVE sessions
Virtual field visits are educational, pre-recorded videos which guide the students to watch local wildlife and answer questions related to their curriculum. On the other hand, Dinja Waħda LIVE sessions are fun-filled, informative nature lessons suitable for both young children and adults. In the past three weeks, audiences of over 200 students and teachers have tuned in to learn about migration, pollination and nests of different species, amongst others.
Here are some of the comments and feedback we've received since we've launched this new service: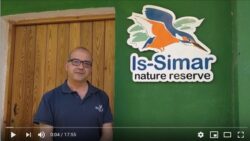 "I am enjoying your LIVE sessions very much! Please keep on doing them because you make them very interesting, leading to the fact that I am enjoying them so much that I wait for the day, then I wait for the time! I cannot wait for the next one!"

– Student at St. Dorothy, Sliema
"I would like to express my gratitude for the excellent live session about Pollination and Pollinators earlier today. I enjoyed it as much as my students did."

– Ms Sandra Azzopardi, Teacher at Thi Lakin Primary School.
Dinja Waħda is BirdLife Malta's flagship education programme which engages 75% of the Primary schools in Malta and Gozo with nature-based learning.
The Ministry for Education and Employment has also been connecting students with nature as they share BirdLife Malta resources on the new Teleskola website. Here you can find ideas on how to spot wildlife from your window and lots of fun educational games and crafts to enjoy with the family.
These educational resources are a temporary service provided by BirdLife Malta that have been created in response to the COVID-19 pandemic, and will remain in effect until schools reopen. Schools and families are encouraged to visit our nature reserves again and book field visits with our field teachers at BirdLife Malta reserves or Buskett when it is safe to do so.
During normal school days, thousands of children from all schools across Malta visit our nature reserves, whilst the reserves are open to the public for free during weekends and selected weekdays.
Sarah Jane Brady, BirdLife Malta's Head of Education and Engagement, stated: "Children are missing out on experiencing nature during one of the best times of year for Maltese wildlife. We wanted to make sure that children can continue learning, appreciating and caring for nature despite the restrictions. This is beneficial for children and their well-being as well as for the environment. We are very happy to provide this free service and invite everyone to learn more about nature!"
The list of virtual field visits and online lessons we launched during this Coronavirus pandemic period can be found below. More resources and inspiration to learn about nature from home can be found on BirdLife Malta's Dinja Waħda Facebook page here.
Read the Maltese version of the press release here.
Virtual Fieldwork videos:
Year 3: A visit to Simar Nature Reserve
https://youtu.be/tT5R84EsxCU (Maltese)
https://youtu.be/18aTS3x1R2g (English subtitles)
Year 4: Nocturnal Nature
https://youtu.be/YD1qBNqObNM (Maltese)
https://youtu.be/–0731h0_tY (English subtitles)
Year 5: The Living Soil
https://youtu.be/rwZu3C5TNV0 (Maltese)
https://youtu.be/WV6qGVA597o (English subtitles)
Year 7 (Form 1): Integrated Science Fieldwork at Simar Nature Reserve (click to open)
Year 8 (Form 2) Integrated Science Fieldwork at Buskett (click to open)
Dinja Waħda LIVE sessions:
Pollinators and Pollination
https://youtu.be/PuNPbScCHIc (English)
Dakra u Dakkara
https://youtu.be/DR9GG2G83ks (Maltese)
Nests!
https://youtu.be/jWCDqpEOe5Q (English)
Bil-Bejta!
https://youtu.be/b9cct0tbQl0 (Maltese)
More resources:
https://bit.ly/BirdLife_resources