This year there will be no less than 122 port calls to Malta by Europe's worst-polluting cruise ships, according to the Cruise Ship Ranking for 2019 which has just been published.
The list, compiled by BirdLife Malta's German partner NABU (Nature and Biodiversity Conservation Union) was presented in the past days and for this year's ranking, 90 vessels were checked on their emissions' impacts, especially on contribution to air pollution levels.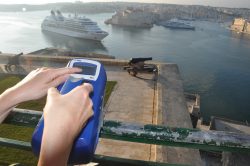 In 2019, 21 of these vessels berthed or are scheduled to berth at Malta's Grand Harbour, many of them coming several times throughout the year. In total, we have to face 122 port calls of cruise ships of the worst category in 2019. Cruise ships equipped with technologies that reduced air pollution caused by exhaust systems execute only 33 port calls. These include for instance SCR-Catalytic System, particulate filters or cruise ships that do not use Heavy Fuel Oil.
The findings of this year's evaluation demonstrate that only a small proportion of the cruise ship fleets is becoming cleaner, while the industry by large continues to rely on heavy fuels and fails to employ exhaust technology. The climate footprint of cruise ships is especially worrying: all ships are fuelled by fossil fuels producing enormous greenhouse gas emissions.
BirdLife Malta and NABU (BirdLife Germany) have been since December 2016 working closely on a joint project, together with other international partners, which is delivering an awareness campaign on air pollution generated by cruise ships in the Mediterranean. The long-term goal of the Together against Air Pollution from Ships project is the establishment of a Emission Control Area (ECA) in the Mediterranean Sea.
Annual Cruise Ship Ranking for this year published: out of 90 vessels analysed, 21 berthed or are scheduled to berth at Malta's Grand Harbour
NABU CEO Leif Miller said: "The cruise ship industry's failure to embrace climate protection is a slap in the face of our youth. Nobody can pretend to be unaware of today's climate crisis – it is our joint responsibility to act now. Nevertheless, suppliers flood the market with more giant vessels every year, all being operated by fossil fuels. That's not keeping up with the times and it is irresponsible, too. Cruise ships can only have a future if they use zero-emission technologies."
Janina Laurent, Policy Officer at BirdLife Malta, comments: "In Malta, air pollution is a major threat to human health, our environment and the quality of life for Maltese citizens, particularly in cities. Even though surrounded by sea and highly dependent on shipping traffic – knowledge and awareness of the problems resulting from ship emissions remain widely unknown and action from responsible government authorities is not being taken. Health-related external costs from air pollution are above €182 million per year and 44,000 workdays are lost each year due to sickness leave related to air pollution according to the latest EU's Environmental Implementation Report. In Malta, these costs are covered under public funded health care".
In the category of air pollutants German ship owner AIDA comes first with its newest model AIDAnova. AIDA's Italian parent group Costa Crociere is on a par with its LNG operated Costa Smeralda. The third place is awarded to three ships of shipping company Hapag-Lloyd: Europa 2, winner of the year 2013, as well as the new expedition cruise ships Hanseatic Nature, and Hanseatic Inspiration. However, these cruise ships are not scheduled to call at Valletta Cruise Port in 2019. Far behind in the ranking are the industry's giant MSC fleet which take the last place at all times. In 2019, 17 calls at Valletta Cruise Port are scheduled. German company TUI Cruises has been downgraded to 13th place.
Malte Siegert, Head of Climate Policy at NABU Hamburg said: "A comprehensive reduction of air pollutants is technologically possible and also economically feasible for a mere fraction of the construction costs of a new ship. It's a scandal that we still see ships today which are built with a standard that dates back to decades ago. Technologies for new constructions as well as retrofitting are widely available. In addition, mandatory shore power connections are long overdue for all European ports. In order to do so, cruise ship companies need to make a genuine commitment."
Read the Maltese version of the press release here.