Over the weekend we were happy to welcome approximately 200 Brownies aged 7 to 10 to our nature reserves in the north of the island as part of the ongoing partnership between the Malta Girl Guides, Sharklab-Malta and BirdLife Malta.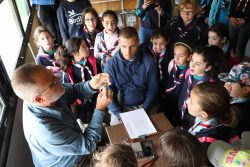 BirdLife Malta strongly believes that inspiring young people to spend more time outdoors is an essential part of protecting our wildlife, and BirdLife Malta's mission. That is why we are working in partnership with Malta Girl Guides to develop workshops, leader training and activities to encourage further connection and time outdoors with nature.
Last Saturday's event, which was called "Brownie Discovery: Life beyond land", was a collaboration which also included Sharklab-Malta, and the Brownies from all across Malta and Gozo were hosted at Għadira Nature Reserve and Foresta 2000 to take part in a number of fun nature activities. Other activities were held at Għadira Bay. Whilst BirdLife Malta led three activities at its nature reserves, Sharklab-Malta was running three activities on the beach at the same time.
The activities by BirdLife Malta included an Unnatural Trail for the participants to learn about the effects of leaving rubbish in nature, Meet a Tree to learn about trees which can be found in Malta, and Bird Detectives which consisted of birdwatching and bird ringing. Sharklab-Malta's activities, on the other hand, included Beach Plant Detectives which was a treasure hunt for plants to learn about beach plant life in Malta, Shark Eggcase Study to learn about different ways sharks breed and Things you Didn't Know about Sharks which had the children look at the different body parts of the sharks you find in the Mediterranean Sea.
Fun nature activities in collaboration with Sharklab-Malta held to celebrate partnership between BirdLife Malta and the Malta Girl Guides
Through this partnership, BirdLife Malta has developed tailor-made resources for Malta's Girl Guides under its programme for informal education for community and youth groups and events such as this one developed by BirdLife Malta and Sharklab-Malta enable Malta's Brownies to have fun outdoors whilst also learning about the wildlife which can be found in the Maltese Islands.
Commenting on the event, BirdLife Malta Education Manager Sarah Brady stated: "Connection with nature is very important to us and we are happy to have the children learn whilst having fun at our nature reserves. We look forward to working with the Malta Girl Guides again in the near future".
Pam Mason, Education Officer of Sharklab-Malta stated: "Although living on islands, many people have never thought about the wildlife in the sea surrounding them, and these sessions with Brownies are designed to increase their awareness, whilst having fun."
Gaby Meli, Programme Commissioner of the Malta Girl Guides, added: "Outdoor and adventurous activities are a core part of the Malta Girl Guides' programme. We feel that the best way in which children learn to appreciate nature, biodiversity and its importance to the planet early on, is by giving them the opportunity to experience it hands on! We believe immensely in a learning-by-doing approach and that is why such partnerships enable us to give our members fun-filled experiences that will make them pass the newly discovered experiences to their friends and family. This creates a ripple effect that in the long run will not only benefit our members but the whole community. Furthermore, we value and encourage the benefit that outdoor activities leave on the girls' physical and mental well-being."
Read the Maltese version of the press release here. You can also watch the video edit we've prepared about the event here.