This year's spring hunting season – which is about to end – was once again proved to be a smokescreen for hunters to go out and shoot at will on anything that flew by. Our teams in the countryside noticed that hunters were not actually hunting for Quail, which supposedly was the only legally huntable species, but were targeting every protected bird they saw.
During a press conference held earlier today, BirdLife Malta announced that 10 protected birds were retrieved and confirmed shot by the vet so far. Another injured bird was received during the press conference, and it was shown to the journalists present at BirdLife Malta's offices before being taken to the vet who later on confirmed it was also shot. This raises the total of illegally shot protected birds retrieved to 11.
These are only a small percentage of the birds shot since many other species were seen either being targeted or actually carrying clear signs of gunshot injuries such as dangling legs and broken feather tips. This remains to be a small fraction of what is really happening in the countryside and hunting illegalities this spring were rampant.
BirdLife Malta believes that hundreds of Turtle Doves were shot over the past days and this happened because this year's spring hunting season dates were moved purposely to coincide with the peak migration of this protected bird.
It is clear that the same actual number of Turtle Doves shot during spring seasons prior to the moratorium were actually shot this year too, if not more, irrespective of the fact that it was illegal.
The number of hunters seen targeting Turtle Doves, some of which are documented in videos, is disheartening and should bring shame to those that supported the decision to move this year's spring hunting dates within the peak season of the Turtle Dove's migration.
This is proven further by the fact that while thousands of shots have been heard in all areas of the country in the past two weeks, the number of Quails declared shot were a mere 229, according to data which the Wild Birds Regulation Unit (WBRU) has.
BirdLife Malta President Darryl Grima, CEO Mark Sultana and Conservation Manager Nicholas Barbara explained that these videos and documentation will be part of a report that is being compiled by BirdLife Malta to be submitted to the European Commission, who has the duty to check whether this year's spring hunting season has adhered to its parameters including making sure that the vulnerable Turtle Dove is not being targeted.
The 11 protected birds which were recovered by BirdLife Malta and the police since the start of the season on 1st April up until today were all found by members of the public. This total adds up to more than one shot bird every two days with one particular day (12th April) returning two casualties in less than 24 hours. For the past week – as migration of most birds picked up – BirdLife Malta had a bird with gunshot injuries being delivered to our offices every single day.
With two more days to go, the species collected to date vary from protected birds of prey such as Marsh Harriers, a Pallid Harrier and Common Kestrels to other smaller birds which also included a Moorhen. Three of the birds received were Turtle Doves which clearly indicates the level of illegal killing of this species happening during the spring hunting season. Given that Turtle Dove migration is expected to continue into April and May, and the ease by which hunters are managing to target these birds, it is imperative that enforcement is maintained following the closure of the season this Saturday.
Once again, BirdLife Malta states that Malta should not derogate from the EU Birds Directive to open future spring hunting seasons as this is the time when birds are migrating to their breeding grounds to reproduce.
We call once again on the Government to have the courage to use scientific data and studies to take such decisions and distance itself from any political will it might have had. We also ask for the enforcement unit within the WBRU to be shifted onto the Environment & Resources Authority (ERA), while a specialised unit within the police force is set up to handle only wildlife crime.
Read the Maltese version of the press release here.
Click here for the list of illegally shot protected birds retrieved by BirdLife Malta and the police since the start of this year's spring hunting season on 1st April. All the casualties are shown in the picture album below.
The YouTube video at the bottom shows the recovery of a shot Marsh Harrier (Bagħdan Aħmar) found by members of the public at Wied is-Sewda in Qormi two days ago.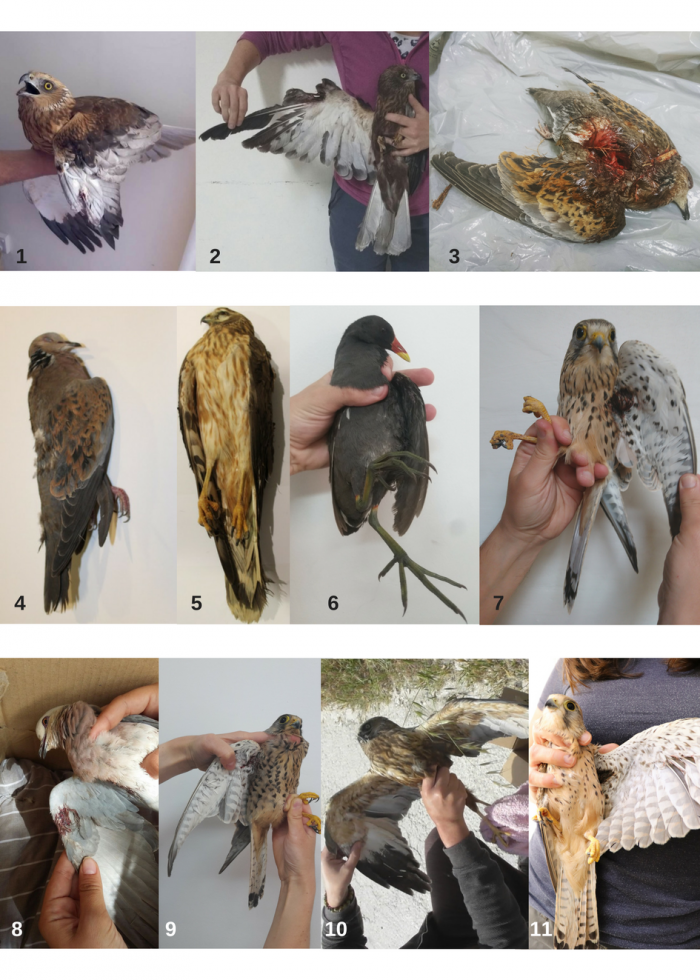 https://youtu.be/UGd0HnMpybo