My love story with biodiversity began 16 years ago with the study of Coracina newtoni habitats. Locally named Tuit-Tuit, the Réunion Cuckooshrike is a quasi-extinct passerine that breeds above 1,200 meters in the La Roche-Ecrite forest, the Written Rock Forest – a tropical woodland in the north of Réunion Island. Réunion is a French overseas department forming with Mauritius and Rodrigues Islands in the Mascarene Archipelago which was born from subsea volcanoes in the southwest of the Indian Ocean.
At the dawn of a bright day in October 2002, after six months of intensive training, I was in the starting blocks of La Diagonale des fous – The Madman's Diagonal – one of the hardest mountain races in the world that takes place on the green and dizzy Réunionnese heights.
I ran and walked more than 70 kilometers in a whole day and a wide part of the night. On the edge of the abyss with only the moon and my headlamp to see, I wondered: towards where was I running? I didn't even know. I decided to stop the race at the next checkpoint, the Dufour Cave at an altitude of 2,480 meters. From that moment on, I slowed down to take time to watch nature and took a camera during my nature walks and rural stays which became very often. With a Masters in Sciences and Management of Tropical Environment, a deep relationship with biodiversity began.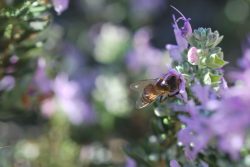 In 2017, back in Paris with the reputation of a film director and several working experiences on sustainable development, I received an Erasmus scholarship to go to Malta to improve my English. During that period, I had began to work on "building a theory of the living beings" studying academic researches of the French Neurobiologist Alain Prochiantz, professor at the famous Collège de France. It was very important for me to spend my language internship in an environmental organisation so I chose BirdLife Malta when I found out that its values for nature are the same as mine.
My internship at BirdLife Malta began in mid September 2017 – my first time in Malta. My mentor was BirdLife Malta's office administrator, Janet Borg, and I was also directed by the Communications Manager, Nathaniel Attard. During the three months I spent there, I found a team who had trust in me.  My main tool on the job was my Nikon equipment! I was responsible for covering several events including Science in the City, the EuroBirdwatch Migration Festival, and the first ever Christmas Nature Fair – all with the support of David Attard, Mark Gauci and Nimrod Mifsud, who were incredibly helpful and taught me so much.
I had the opportunity to frequently visit the Maltese nature reserves managed by BirdLife Malta and learn all about the species which inhabit them under the knowledgeable guidance of Reserves Warden Ray Vella. I also visited the small island of Comino to see the bird ringing station where it was so exciting to see how the birds are caught, ringed and the data is collected.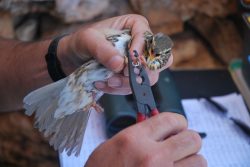 I couldn't forget my interview with the two authors of  the book "History of Ornithology in Malta", Joe Sultana and John Joseph Borg, ornithological and scientific experts of the Maltese Islands. Joe Sultana is one of the founding members of the Malta Ornithology Society, MOS (the predecessor of BirdLife Malta) and John Joseph Borg is the curator of the National Museum of Natural History of Malta – it was a real honour to have the chance to spend time them!
Joe and his wife Lucy kindly invited me to their house in Xagħra, Gozo, and took me to Lunzjata Valley then to the stunning Calypso Cave. During my stay in Gozo, I also paid a visit to the Natura 2000 site on top of the Cittadella bastions and Ramla Bay, where I now treasure some rocks and sand as mementos from this beautiful beach.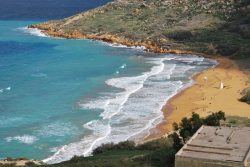 I am so grateful for the special relationships I made along the way during my stay in Malta, from my mentor Janet kindly inviting myself and an ex-colleague of mine visiting from Paris to visit her house, laughing a lot with the Maryrit from the education team, and visiting Gozitan schools with events coordinator Lorenzo, to talking with field teacher Jason Aloisio, education manager Sarah Brady and bird ringer Sean Bonnello about Maltese culture and traditions.
My time at BirdLife Malta was wonderful and I had the opportunity to do what I like most – working on ecology and observing the beauty of nature. Not only that, but I have learnt so much about ornithology, botany, geology, and of course some new words in English!
I left Malta for Paris just few days before Christmas, with lots of happiness of mind and soul. My internship was just amazing. Grazzi ħafna to the whole team who shared their time with me and a special thanks to the CEO of BirdLife Malta Mark Sultana, Janet and her husband Joe, Nathaniel, Nimrod, Maryrit, and Jessica who helped to read over my paper on the European Turtle Dove I developed whilst in Malta. I also extend many thanks to Odette Vella, the Maltese Erasmus+ manager and Stephane Hamanache, the French Erasmus+ manager who helped to make this unforgettable experience for me possible.
Now, it is the time to hang my nest box on the wall of my balcony, hopefully to see what visitors it brings.
By Pascale Kouassigan, voluntary intern at BirdLife Malta (October-December 2017)
If you are interested in volunteering with BirdLife Malta, check out our current opportunities here.