Dinja Waħda Primary 2017 prize-giving ceremony takes place at Salina Nature Reserve
A total of 87 primary schools across Malta and Gozo are celebrating their outstanding achievements in connecting children with nature through BirdLife Malta's Dinja Waħda schools programme.
Following on from the successful Secondary Awards in October, the primary schools accomplishments for the 2016-2017 scholastic year were recognised at the Dinja Waħda Primary prize-giving ceremony 2017 which was held at Salina Nature Reserve's Visitors' Centre this morning.
This year, 53 schools received gold awards, nine schools received silver awards, four schools were awarded with bronze awards and 21 schools with certificates. Seven schools also received a blue banner, after being awarded the gold award three years in a row.
The awards were distributed to schools by BirdLife Malta CEO Mark Sultana and Bank of Valletta's PR & Marketing Executive Charles Azzopardi who were accompanied by BirdLife Malta Education Officer, Sarah Brady. Present at Salina were representatives from all the participating schools including students, teachers and headteachers together with other education officials.
Apart from celebrating the success of schools involvement during the last scholastic year, today's ceremony also marked the launch of a new year of engagement in the initiative.
BirdLife Malta's Dinja Waħda initiative forms part of the NGO's commitment to protect wildlife and its habitats through outdoor activities for school children both in school grounds and through educational visits to Malta's nature reserves to help them connect with nature. The programme is run in collaboration with the Directorate for Quality and Standards in Education (DQSE) and is supported by the European Commission Representation in Malta. It has been running for more than 20 years.
BirdLife Malta would like to extend its congratulations to all the participating schools for their hard work this year as well as give a special thanks to the Dinja Waħda coordinators who ensure the running of the programme in their school and support the teachers voluntarily.  Without these coordinators, children would not be able to develop the skills, knowledge and values to protect the environment gained through participation in the Dinja Waħda programme.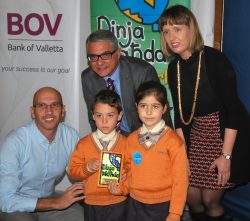 BirdLife Malta is also delighted to announce that Bank of Valletta (BOV) has decided to support the Dinja Waħda programme. This was recognised at today's event with BOV representatives also presenting BirdLife Malta with a sponsorship for Dinja Waħda 2017-2018 apart from distributing prizes to the schools.
Charles Azzopardi, Executive PR & Marketing at BOV, expressed the bank's satisfaction at resuming its role as the educational partner of BirdLife Malta's Dinja Waħda programme, after an absence of a number of years. "Dinja Waħda is a very important resource toolkit that gives teachers and children a platform to consciously think about the green stakeholder and how we can actively protect it through our everyday decisions and actions." Mr Azzopardi said that the environment is considered to be a key stakeholder for the bank, as mentioned in their mission statement. He also said that the bank considers the impact on the environment regularly as part of its decision-making process, whilst involving its people in activities targeted to raise awareness about the importance of being active ambassadors of protecting the green stakeholders and showing them how to be environmental-friendly both at work and at home. "Now that we are rekindling our support towards Dinja Waħda, we look forward to contribute towards its growth," concluded Mr Azzopardi.
BirdLife Malta CEO Mark Sultana explained that human behaviour is what effects nature most whether negatively or positively. "Children tend to better understand the importance of taking care of nature and find it easier to change their behaviours to live within nature and not taking it for granted. This is why we put so much efforts in our highly professional formal education programme. Needless to say the support of the Ministry, the teachers and our sponsors like BOV is vital."
During this morning's ceremony, BirdLife Malta also launched their new children's book, Għasafar Madwarna. The second edition of this colourful junior guide to birds in the Maltese Islands created by Victor Falzon is aimed at engaging children in learning about and identifying Maltese nature. When it was originally published in 2004 this book won the national award for Best Illustrated Children's Book. BirdLife Malta is very grateful to SOF (our BirdLife partner in Sweden) for kindly sponsoring the printing of this book. 
Read the Maltese version of the press release here. You can also click here to watch a video edit with footage taken during this morning's event.