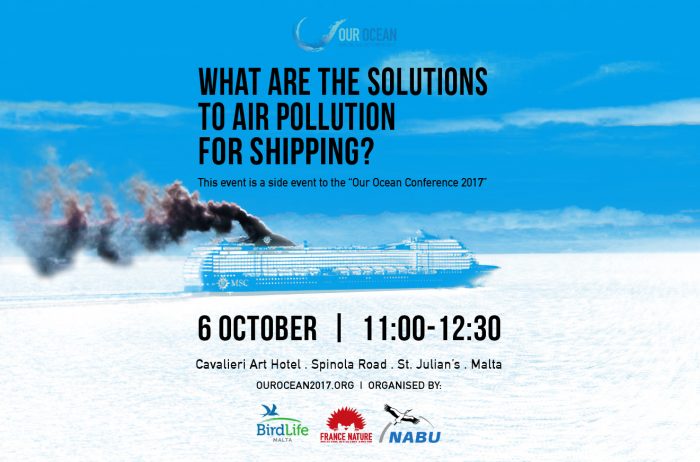 Date:            Friday, 6 October 2017
Time:           11:00–12:30
Location:    Cavalieri Art Hotel (Spinola Road, St. Julians, Malta)

This is a side event to the "Our Ocean Conference 2017"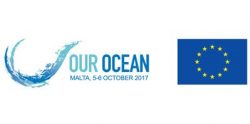 Seven national NGOs from key EU member states primarily from the Mediterranean regions (Italy, Spain, France, Greece, Malta, Portugal, Germany) work together in order to protect the citizens and the environment from shipping emissions.
Pollution from ships is a significant threat to human health, the environment and global climate. Ships are a major source of particulate matter, nitrogen and sulphur oxide emissions – especially in port cities and coastal areas. While emissions from land-based sources have been successfully targeted by European legislation during the past years, shipping is still out of the focus of ambitious emission reduction targets.
The European Union seeks to guarantee its citizens the right to breathe clean air and set respective standards e.g. in the Air Quality and NEC Directives or the Environment Action Programme. The recently undersigned Valletta Declaration (29th March 2017[1]) by EU Member States reflects the official recognition that shipping transport significantly contributes to harmful emissions and states political commitment of actions of greening maritime transport in the EU to reduce the negative impact on human health and the environment.
There is an imbalance and incoherence when it comes to the different standards for shipping operation respectively quality of marine fuels that exist in the northern and southern part of Europe. While the North Sea, Baltic Sea and English Channel were designated Emission Control Areas (ECAs) years ago similar standards are still missing for the Mediterranean Sea. Other EU waters lack effective regulation to reduce exhaust gases from international shipping such as particulate matter, soot, nitrogen and sulphur oxides too. Fortunately, the process got new dynamics when the French government declared to pursue the designation of the Mediterranean Sea as an ECA for sulphur and nitrogen oxides just recently.
We would like to take the opportunity to discuss this issue with key stakeholders such as national governments, EU bodies, industry stakeholders, leading scientists, port representatives and NGOs at the "Our Ocean" conference, taking place in Malta this year. The Our Ocean conference is an excellent occasion with key parties, decision-makers, and stakeholders present in the heart of the Mediterranean Sea in Malta.
Despite the fact that the International Maritime Organisation (IMO) agreed on a global sulphur cap of 0.5% for marine fuels in last October which will only come into effect by the year 2020, ships will still sail on heavy fuel oil (or newly developed low-sulphur HFO blends) and lack any exhaust gas after treatment systems like they are a common standard for all land-based sources since many years.
During this side event, we will discuss the impact of shipping emissions, the technical and regulatory means to reduce air pollution from ships effectively, and good initiatives already implemented or planned for the near future to protect the Mediterranean environment and its citizens.
AGENDA
11:00                                OPENING REMARKS and INTRODUCTION OF PROJECT INITIATIVE "AIR POLLUTIONS  FROM SHIPS IN THE MEDITERRANEAN SEA"
11:10                                  REMPEC – The Regional Marine Pollution Emergency Response Centre for the Mediterranean Sea – on an international perspective on air pollution from ships in the Mediterranean Sea
11:30                                  Laurence Rouil – Head of the Environmental Modelling and Decision Making Department at the Environmental and Risk National Institute – on their feasibility study for a Mediterranean Emission Control Area
11:50                                   France Nature Environnement and BirdLife Malta – project progress on a national level
12:00                                  Penal discussion: Questions & Answers
This is a public event open for all interested parties.
For further information, please contact Janina Laurent at [email protected]
[1] Priorities for the EU's Maritime Transport Policy until 2020: Competitiveness, Decarbonisation, Digitalisation to ensure global connectivity, and efficient internal market and a world – class maritime cluster (Valletta Declaration): https://www.eu2017.mt/en/Documents/Valletta_Declaration_on_the_EU_maritime_ transport_policy.pdf (15/6/17)