It's a question that many ask themselves a lot nowadays; does bad trump over good? Just a few weeks ago we saw that Foresta 2000 was again vandalised. This time these vandals chose to cut down a healthy Olive grove of 36 trees inside the nature reserve.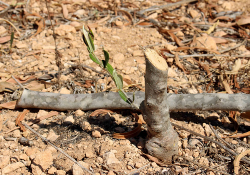 It is so unfortunate that these acts of vandalism still happen. Foresta 2000 is a successful collaboration between two environmental NGOs, Din L-Art Ħelwa and BirdLife Malta. In fact, these very trees were donated by Din L-Art Ħelwa some eight years ago and have grown to healthy trees. All to be cut down by an electric saw. Why? I really don't know why and what pleasure anyone can get from cutting down 36 trees and causing an estimated €3,600 worth of damage.
This is not the first time that Foresta 2000 has been the target of vandalism. In September 2004, some 100 trees were uprooted. In 2006 there were three incidents of vandalism, in 2007 around 3,000 trees were cut overnight and in 2010, 104 trees were damaged, leading to the conviction of three hunters.
Foresta 2000 like other nature reserves managed by BirdLife Malta is a service to our community. Within the last 12 years a staggering 21,000 trees and shrubs have been planted in this reserve. Furthermore, countless numbers of children have visited the reserve as part of BirdLife Malta's environmental education outreach. At Foresta 2000 schoolchildren have the opportunity to go around the site and learn about local flora and fauna. They realise that whilst we do not have large wild animals on our islands, we still have a mix of biodiversity. When vandals cut down trees at Foresta 2000, it was not an act against BirdLife Malta but an act against Malta and our environment.
It is probably because of this that there has been such a positive response as a reaction to this. The Alfred Mizzi Foundation has forwarded its support along with other companies and individuals that have sent or pledged their support. This is all very encouraging. Especially in these times when it is so easy to be overtaken by all that is negative.
We hear of the President of the United States of America pulling out from the Paris Agreement on climate accord. Whales dying of hunger because their stomachs are full of plastic. Global environmental problems are piling up. On a local level, just last week we heard about the Environment & Resources Authority allowing the tuna pens to be moved into a marine Special Protection Area just next to l-Aħrax tal-Mellieħa, all of this in total breach of EU environmental regulations.
So, let's go back to the starting question, does bad trump over good? There are days when it really seems so! Then there are other moments; when an avalanche of support comes in for a heinous act of environmental vandalism and when people go on our website to join as members in support.
It's not the happy fairy tale ending that everybody likes as after all environmental problems are still there and we need to tackle them. Yet there is a glimmer of hope.
By Darryl Grima, BirdLife Malta President