BirdLife Malta's adult group activities continued with another day trip to our beautiful sister island of Gozo.
The visit commenced with a 5km trek along the southwestern coast from Mġarr Harbour to Xatt l-Aħmar and onto Mġarr ix-Xini Bay. Here participants had the chance to visit the completely restored tower built and completed in 1661 in defence of the island. A representative of Wirt Għawdex, the NGO responsible for the management of the tower, was on hand to guide and advise participants.
Various species of birds were seen in the course of the trek. These included a Common Kestrel, Blue Rock Trushes, Yellow-legged Gulls, a Spectacled Warbler, a family of Sardinian Warblers, Barn Swallows, Little Egrets and many Short-toed Larks.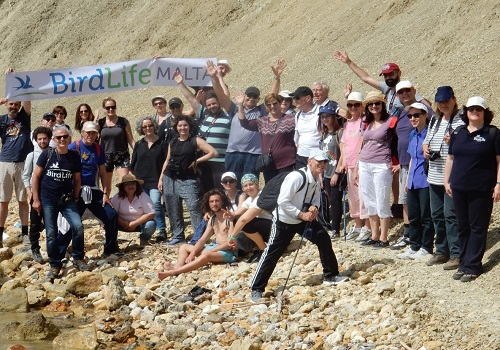 The walk continued along the coast and finished at the Xewkija Rotunda.
Following an appetising lunch, the afternoon was taken up by an interesting visit to the famous Ġgantija Temples at Xagħra, dating back to 3,200 BC and now listed as a UNESCO world heritage site. Participants were led to the new Interpretation Centre by Heritage Malta. Detailed information was given to participants who also had the opportunity to explore various aspects related to life in Neolithic times.
All in all, it was another interesting event combining nature walks with visits to historical places, a day out enjoyed by all.
Details about BirdLife Malta's events can be found here. BirdLife Malta members are given priority for such activities. Those who may wish to join BirdLife Malta as member can do so here.
Read the Maltese version of the press release here.