Last Saturday all four tyres of Mark Sultana's car (BirdLife Malta's CEO) were slashed whilst he was birdwatching. An act of cowardice. This isn't the first time that the vehicles of BirdLife staff, members and birdwatchers were vandalised! Recently the brakes of one of our vehicles were cut.  Fortunately nobody got hurt. Unfortunately there is a long list of incidents.
In a meeting we held with the Commissioner of Police just a few weeks ago, we raised our concern about the possibility of an increase in violence, even in the light of the upcoming decision by the European Court of Justice on trapping. I hope that this negative trend does not continue.
One should explain to whoever does these actions, that they do not reduce our resolve. On the contrary, they strengthen it. Over the weekend many chose to show their solidarity and we thank them. A funny highlight was the free pizza given to Mark from his favourite take away! Support comes in many forms, and it is this wide outreach of support that defines BirdLife Malta and makes us strong.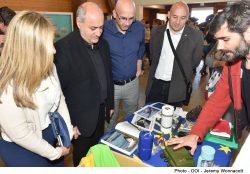 The weekend continued and on Sunday BirdLife Malta and the Ministry for Sustainable Development, the Environment and Climate Change held an open day at Salina Nature Reserve. A great success in which more than 7,000 visitors came to see the reserve and the salt pans and took part in a number of family activities. Salina was at times overflowing with people. It was also an opportunity for us to showcase our efforts in education, research and conservation. A thumbs up to the BirdLife Malta staff that took care of this.
In summary, last weekend was a showcase of the diverse and strong support BirdLife Malta has. To whoever thought they could ruin the party, in your face!
By Darryl Grima, BirdLife Malta President