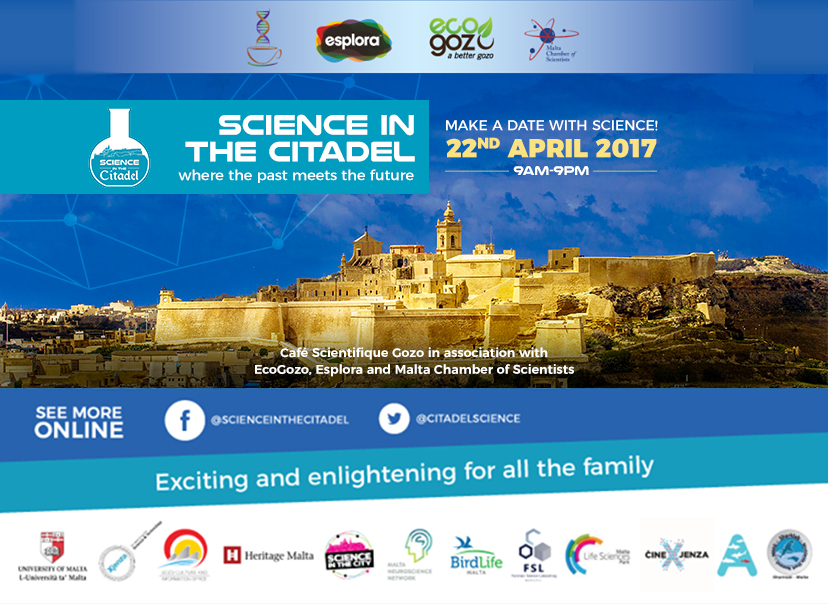 Date:         Saturday, 22 April 2017
Time:         09:00 – 21:00
Location:  The Citadel, Victoria Gozo
Join us for a whole day of science extravaganza taking place within the historic walls of the Citadel in Victoria. A stimulating experience for visitors of all ages who will be engaged in science, research, creativity and innovation.
Modelled on the annual Science in the City, held in Valletta every September, this day will be firmly Gozitan in flavour, with displays relevant to the island's biodiversity, geology, agriculture, seas and skies as well as items highlighting the science and engineering inherent in the Citadel itself and its museums. There will be an interactive Science Trail which will take you around most of the features and spectacular vistas of the fortress effortlessly blending the past with the leading edge science and technology of the future, demonstrating how science is, and always has been, relevant to our daily lives.
Entry to all events is free.
Together with many others NGOs and institutions, BirdLife Malta will give three special contributions:
Science Fair – Discover Malta's Birds: Stand with interactive games and activities on the importance of swans and seabirds, and the threats to these birds. A great opportunity to learn about different seabirds that breed in Malta and about the Mute Swans which spent the beginning of the year with us in Marsalforn Valley. You will be able to discover in detail the secretive life of these species and be able to locate the seabirds' main colonies around the Maltese Islands. Become also part of our research team and understand how technology helps science and conservation. Tells us how many objects you can count using a thermal imaging camera and we will show you what other activities our field work includes.
When?
09:00 – 18:00
Where?
Ditch – through the Entry Arch and down the stairs to the left
Talk: "The secretive life of the Yelkouan Shearwater in the Maltese Islands" by Paulo Lago, Project Manager of our LIFE Arċipelagu Garnija project with more than 10 years of experience in bird and nature conservation.
When?
14.00 – 15:00
Where?
Nature Museum  – in the lecture room upstairs
Get Involved: Stands with leaflets, sign-up, all the information you need to have an insight to wild birds' conservation and nature reserves in Malta.
When?
09.00 – 21:00
Where?
Cathedral Piazza
For further details, download the official brochure or visit the following links:
Science is just waiting for you!