As the first dawn of 2017 broke across the Maltese Islands, who could have guessed that a flock of unexpected visitors were already on their way? The next day, they were spotted in Gozo's Marsalforn Valley, unleashing a frenzy of excitement amongst locals. As news quickly spread, it suddenly seemed like everyone in Malta wanted to catch a glimpse of these rare guests – a small flock of majestic Mute Swans! Although common across most of Europe, these waterbirds are a rare sight in these parts. But with the recent cold snap across much of the continent, it is likely that this group of four adults and eight juveniles sought the refuge of warmer surroundings. With their slender white necks, striking orange bills and graceful presence, it's easy to see how these elegant creatures have captured the imaginations of so many, from fairy-tales to Tchaikovsky and now the people of Malta. Within days, the swans had become local celebrities, with thousands visiting the valley to see them – they even dominated the national news for the first week of the New Year.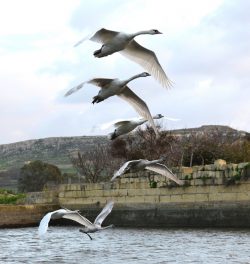 Of course, amidst the hype, many visitors were keen to feed the birds and
BirdLife Malta
made calls, urging the public to watch from a safe distance and avoid feeding them white bread (which can cause irreparable harm).  After a few days, the overwhelming attention began to take its toll on several of the juveniles that appeared weak from a combination of stress and lack of adequate food. Mute Swans have enormous appetites and have been noted to eat up to eight pounds of aquatic plants per day, so a proper feeding protocol was necessary to give the swans the fuel they needed to continue on their migration. With the help of the
Wild Birds Regulation Unit
, we began feeding the birds a combination of legumes and cereals to help them regain their strength. At this point,
BirdLife Malta
also reached out to the
Federation for Hunting and Conservation
(FKNK) and to the
Kaċċaturi San Ubertu
(KSU) in the hopes of collaborating on the feeding effort and finding common ground for the benefit of wildlife and nature.After much deliberation, it was agreed that, in the best interests of the birds and their wellbeing, a collaborative effort was important. Since then, we have all worked together to ensure regular feeding and the FKNK has even helped secure a sponsor for most of the food. While
BirdLife Malta
may not always see eye to eye with hunting groups, our recent joint efforts shows that collaboration is possible. The Mute Swans have cast a magical spell over Malta, uniting two opposing forces and many thousands of people together behind nature. We hope they leave this magic behind when they continue on their journey. By Jessica Irwin, BirdLife Malta Communications Officer This blog was originally published by
BirdLife Europe and Central Asia
. Photos by Roland Vella.