Dinja Waħda, BirdLife Malta's education programme for primary schools started 22 years ago. Slowly but surely it has developed into one of the main environmental education initiatives on the island, with most of the local primary schools participating in it.
Last November we held the annual launch and prize giving ceremony at Wardija Resource Centre. I wasn't involved much in the organisation; I only helped out during the day and prepared one of the short presentations. But all my colleagues in the education team who worked together to organise it should really be congratulated for making this event such a great celebration. It's not just because the presentations were interesting and the organisation flawless. What struck me more was the enthusiasm with which the children worked on the simple introductory activity, in which they coloured the animal cut-outs and pasted them in the right habitat posters spread around the hall. In this day and age when tablets and game consoles dominate children's (and adults') lives, it was so encouraging to see children enjoying themselves whilst messing with colours and glue.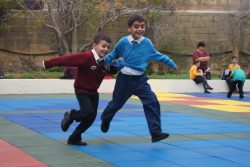 It also gave me great satisfaction to see the children's happy faces whilst playing outside in the beautiful grounds of the resource centre. I have to admit that they were noisy and some were breaking the speed limits imposed by their teachers, but this is what often happens when children find themselves outside in the fresh air and open countryside. It's their way of expressing the joy of being outdoors and connecting with nature. After all, this is what Dinja Waħda is all about because it does not aim just to spread knowledge about nature but to give nature back to our younger generations.
By Jason Aloisio, BirdLife Malta Field Teacher