Last week, two members from the BirdLife Malta education team attended a training session in the UK hosted by the Royal Society for the Protection of Birds (RSPB), alongside youth leaders from Malta, Ireland, Poland and the United Kingdom to provide them with skills and knowledge of how to introduce children and young people to wildlife in an engaging way.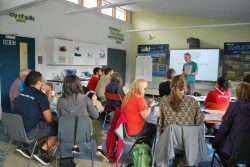 The week-long training session, co-ordinated by BirdLife Malta's education initiative Lifelong Learning through Nature, worked with the youth leaders to understand various methods and age-appropriate activities to benefit connections with nature including environmental and wildlife-based games. The group also developed skills in how to manage challenging behaviour, how to successfully evaluate training and the ability to deliver their own 'natural world inspiration'.
The key objective was to give participants a range of basic skills and knowledge that will enable them to introduce children and young people to wildlife in an engaging and memorable way, and to train others to do so.
The participants who attended represented a range of experience which was brought together by this training.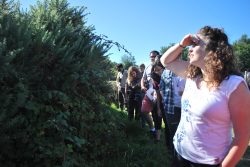 Amongst these were four other youth leaders from Malta coming from The Scout Association Malta and Malta Girl Guide Association as well as from BirdLife Malta's young adults group.
Commenting on this experience, BirdLife Malta Education Manager Hannah Chisholm said: This Erasmus+ project has provided BirdLife Malta and the other organisations involved with unique opportunities to learn from the experience of others, through international collaboration, and to develop the skillset of those involved. I am proud that Malta is leading the way not only in training youth leaders to get children outdoors more but also to provide opportunities for other countries to do the same.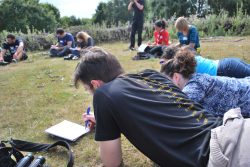 BirdLife Malta Education Assistant Sarah Brady said: The partnership between BirdLife Malta and Malta Scouts and Guides has been well established through this training. I am now looking forward to continue to work with these new contacts to develop more youth leader training and nature related badges here on Malta using the new ideas from the week in UK.
The Erasmus+ funded Lifelong Learning through Nature project will run until 2017 after launching in Malta in 2014.
The project aims to inspire young people aged 5-21 to take an active role with the environment by promoting the positive effects of outdoor learning, surrounded by nature.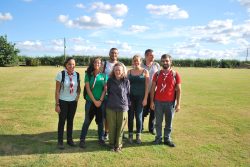 BirdLife Malta hopes to continue leading the way for environmental NGOs making partnership with scout and guide organisations to reach out to the vast number of young people that are involved in these groups and ensure they have opportunities to engage with nature.
Read the Maltese version of the press release here.