With spring bird migration starting in March, a number of scarce species were observed stopping over on the Maltese Islands, including a species last recorded in the 19th century. The strong southern winds are likely to have brought these vagrants – birds which disperse from their usual range through accidental migratory movements.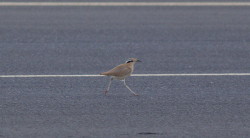 The first surprise for bird watchers was a Cream-coloured Courser (Nankina), a very scarce irregular semi-desert bird, last seen in 2009. The courser spent two weeks within the safety of the airport area, a suitable bare, flat habitat for its ground-running behaviour.  The species breeds in the North African and Middle Eastern regions, rarely venturing into Europe.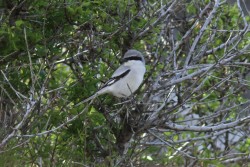 A Southern Great Grey Shrike (Kaċċamendula Prima) was the second rare bird spotted at Ta' Ċenċ cliffs. Southern Grey Shrike is a vagrant species in the Maltese Islands. Although having a wide range, the very pale plumage of this individual revealed that this predatory bird came to Malta from inland North Africa, where it lives in the dry open country. In fact, it is also referred to as the Desert Grey Shrike.
Another rarity this spring is a Richard's Pipit (Bilblun Prim), which stopped over along the Southern coast of Malta. This species is rarely seen in Malta, as it originates from Siberia, Mongolia and parts of China. Past records fo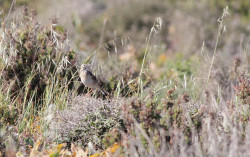 r this bird had always been during autumn, but never in spring.
The most unexpected vagrant however was a White-crowned Black Wheatear (Kuda Rasha Bajda) which stayed over at Majjistral Park. This was only the second record ever for Malta, as the species was locally last confirmed in 1872 as a shot specimen. There are only a handful of records of this species in Europe. It is normally found in in the Sahara desert and Arabia.
A Seebohm's Wheatear, a subspecies of the more common Northern Wheatear (Kuda) was the last rarity to be recorded this month. This is the first time it has been observed in Malta. This Atlas mountain species is normally expected to be seen in Morocco and Algeria and has only been recorded in Europe twice before.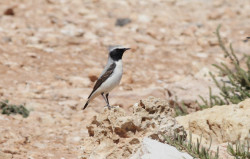 Commenting on these remarkable records, Edward Bonavia, Secretary of the Malta Rarities and Records Committee said: "March has been a very good month for Malta to see species which are rarely recorded, and four of which are North African species. Being located in the centre of the Mediterranean between the two continents, we are lucky to receive a diverse amount of birds migrating over the islands, let alone be able to record a higher diversity with these unusual and vagrant species."
Many migrating birds use the Maltese Islands as a stopover site to rest and feed while moving from their wintering range to their nesting sites in Europe at this time of year. The peak of spring migration in Malta is expected in April, although many birds are already passing through, including Marsh Harriers (Bagħdan Aħmar), Hoopoes (Daqquqa tat-Toppu), Barn Swallows (Ħuttaf) and various ducks (borok) and waders (għasafar tal-plajja).
BirdLife Malta encourages the public to enjoy the beauty of bird migration when in the countryside and also to visit the Għadira, Simar and Foresta 2000 nature reserves, where numerous spring migrants can be observed.