Climate change affects birds in diverse ways. While some species might benefit from the increasing temperatures, scientific studies show that many more species have been affected negatively than positively.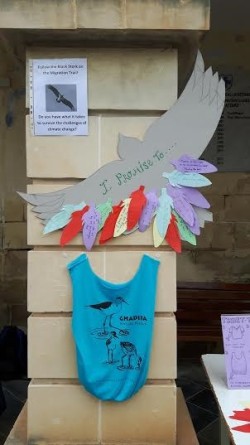 Climate change affects bird migratory patterns, range, food, lifecycle and ultimately population numbers. To raise awareness about these impacts, last Sunday BirdLife Malta was invited to participate in a climate change awareness event in Attard Square. We were really excited to attend and meet local families, as this was also the first event for the new BirdLife Malta education team!
Our children's activity was Black Stork migration trail – these birds are rare visitors in Malta as they migrate from Europe to Africa. With this activity birds "migrated" around the square where families followed clues along the migration trail. They learnt about how an increasing frequency of storms can confuse migrating birds and throw them off course, how changing temperatures of the sea mean several species of fish are moving to different habitats so there is not enough food for fish eating birds, and that habitats such as wetlands can dry up partly due to changing weather; all consequences of a changing climate. When they returned from the trail, children and parents made "climate change promises" to show what they are going to do to help.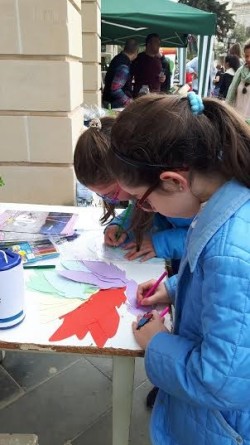 The BirdLife Malta stand consisted of "climate change promises" where people could write down what they want to do to help tackle climate change on a feather to stick to the outline of a bird – for example switching the lights off when you leave a room. We also had crafty examples of how you could reuse materials such as plastic bottles into flower pots or t-shirts that can be made into bags to encourage recycling.
Climate change awareness is very important because it can seem a very daunting issue but actually everyone can do their bit to reduce, reuse and recycle.
We really enjoyed the great atmosphere of this event and lots of people coming over to talk to us about BirdLife Malta and our work. Thanks to organisers Kopin, a local NGO working in International Development Cooperation, Sustainable Development, Global Education, Human Rights and Migration.
By Sarah Brady, Education Assistant