A flock of young white storks (Cikonja Bajda) from a Swedish reintroduction programme are currently being guarded by BirdLife Malta.
Nicholas Barbara, BirdLife Malta Conservation Manager, said "We have been receiving reports from several members of the public, excited to see a flock of white storks flying over the Maltese Islands. Our birdwatchers saw that these storks had coloured rings on their legs, and we have discovered that they are part of a reintroduction programme in Sweden. We have alerted the police, and we will be guarding them until they leave the island."
The 9 white storks, which are just a few months old, originated from a conservation reintroduction programme in Sweden and have flown some 2500km to Malta. They are migrating to sub-Saharan Africa where they will spend the winter. Storks became extinct as breeding birds in Sweden in the 1950s, but thanks to this reintroduction project there are now 20 – 30 pairs breeding in the wild. It is hoped that the storks currently on Malta will return to breed in Sweden.
"Ordinarily, we do not make it public when such rare birds are still on the islands, but a lot of people have seen these storks already. In this case we feel it is better that the public know about them, so that there are more people looking out for them and protecting them." said Nicholas Barbara.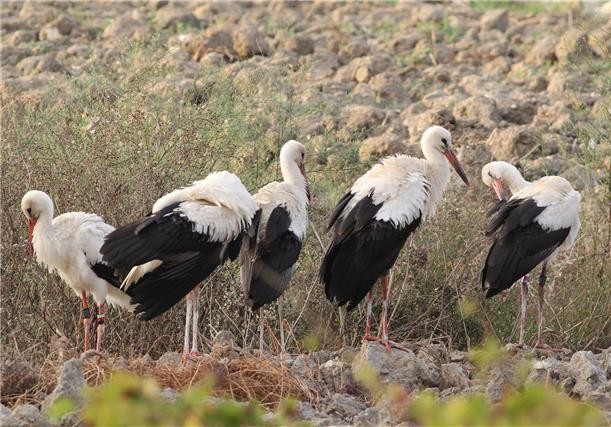 The project is a collaboration between the Scanian Ornithological Society (SkOF) and the Swedish Society for Nature Conservation (SSNC). The project has reported that approximately 100 young storks have left Sweden on autumn migration this year, of which around 10% are currently in Malta.
BirdLife Malta is inviting the public to learn more about bird ringing and migration at their free event next Sunday 4 October, 'Migration Fest: Celebrating Birds and 50 years of Ringing' at Għadira Nature Reserve. Bookable family explorer sessions take place at 10am and 11.30am, then the reserve will be open to the public from 1300hrs. For more information, contact [email protected]