Last year we launched a project devoted to one of the most recent breeding birds of Malta – swifts (Rundun). This has been an exciting year of building new homes for swifts and raising awareness about these amazing birds quite often seen in the sky above Malta.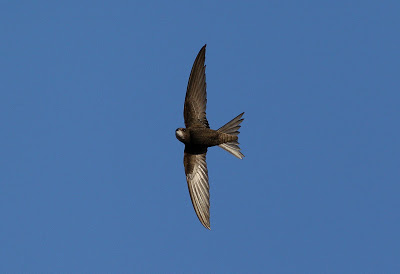 Photo: Noel Camilleri
Swifts (Apus apus) are almost exclusively airborne – eating, mating and even sleeping whilst flying – and can be seen migrating through Malta in both spring and autumn. In 2008 the first breeding pairs returned after an absence of almost a century. The breeding population of this distinctive bird has since spread and can now be found in Sliema, Rabat, Mosta, Mellieħa and a few other neighbouring localities.
Last year Falko (BirdLife Malta's youth section)

created and coordinated an environmental project named 'APUS: Appreciating, Protecting and Understanding Swifts'. With funding granted from the Youth in Action programme, we aimed to encourage swifts to breed in Malta in greater numbers, by working with young people and local communities.
In most European countries these urban birds breed regularly and in good numbers. However, there has been a consistent decline in some regions. Malta's potential to expand their breeding area, however small, has become more relevant to conservation of swifts. Our islands are used as an important stopover by many migrating birds, including swifts. Therefore the APUS project does not only have a national dimension, as it involves the conservation of a bird species which is not confined to Malta.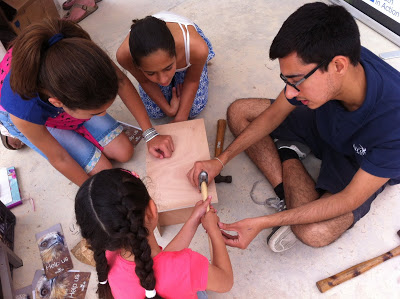 Photo: Jennifer Law
This spring the funding allowed us to
 prepare materials for nestboxes that were mostly built by children in primary schools and at public events. Almost half the nestboxes prepared (40) were successfully installed on hotels, private residences and some public buildings (mostly schools) this year. Although, to our knowledge, none were used by swifts in this season, a few birds showed interest at nestbox sites in Sliema and we hope that they will move in next year or later. All the new nestboxes were installed close to the places where swifts are known to breed, therefore it's much more likely that swifts will use them in the coming years. We will be continuing to find suitable buildings for the remaining nestboxes by the next spring, while also observing and monitoring them.
While attempting to encourage these birds to nest, our project also strives to raise more awareness and support for swifts. To increase the understanding of their characteristics and urban habitat, we held our project activities mostly in places where they are known to breed and can be easily seen. There, people could not only build nestboxes and learn more about the species, but also observe them on the spot. One such event was a swift celebration held at the Mellieħa playground at the start of July, with good views of the swift breeding colony at the parish church.
Apart from creating more places for swifts to nest on Malta, many people have become aware and concerned about them through this project. Additionally, the fact of swifts returning as a breeding species in 2008 and the absence of spring hunting for a short number of years between 2008 and 2010 has enabled many to make the link between this destructive practice and the fact that Malta has many less breeding birds than it should have. Thus it is highly important to involve children, youths and the general public to support and understand the need of conservation effort for this amazing breeding species, rather than being unconcerned or even supportive for their illegal killing.
By working with young people, birdwatchers, local authorities and the general public to look after and celebrate these birds, this youth initiative intended to increase the number and diversity of young people involved in Falko and conservation among young people in Malta.
The actions and resources created by APUS have already enabled us to involve almost 2500 young people.
Through the continuation of the APUS project, I'm optimistic that these wonderful birds will swiftly inspire many more people in Malta and Gozo to conserve and respect nature.