We are now very close to having the final verdict from the European Court of Justice (ECJ) in the court case initiated by the European Commission against Malta on the trapping of seven species of wild finches.
In July 2017 ECJ Advocate General Eleanor V. E. Sharpston delivered her Opinion in regard to the Infringement Proceedings which on 24th September 2015 resulted in Malta being referred to the Court of Justice of the EU over the Maltese Government's decision to allow finch trapping on Maltese territory as of 2014. The practice was reintroduced four years ago after it was banned in 2009 in line with the EU Accession Treaty. Finch Trapping is illegal across the European Union under the EU Birds' Directive. The final decision in this pending ECJ court case is now imminent.
In January 2018 BirdLife Malta launched the campaign #STOPTRAPPINGNOW with the objective of explaining more about trapping to the general public and raising awareness about the several impacts of finch trapping on the birds, their habitat and the Maltese environment in general.

Click here for the campaign leaflet we prepared to explain more about finch trapping in Malta and the several impacts on the birds, their habitat and the Maltese environment.
Click here for a detailed dossier which contains details about the situation in regard to finch trapping in Malta and how this is damaging to our country, together with a timeline in relation to the European Court of Justice (ECJ) case and an explanation of the possible scenarios in regard to the awaited verdict.
Laws
The trapping season is now closed. 
Any illegal activity should be reported immediately to the Police on 119, and then to BirdLife Malta on 2134 7645/6 or on emergency (out of office hours) number 7925 5697, ideally with a GPS location and photos.
The 2017 autumn live-capturing (trapping) season was open from 20 October 2017 to 31 December 2017 (both days included).
---
Which birds may be trapped?
– Seven types of finches: Linnet, Goldfinch, Greenfinch, Siskin, Hawfinch, Chaffinch and Serin
– Song Thrush
– Golden Plover
Each trapper may catch only 10 finches while there is no individual bag limit for Song Thrush & Golden Plover.
Each finch trapped must be marked by placing a plastic ring around its leg (these must be the specific rings issued by the Wild Birds Regulation Unit).
It is illegal to trap any other birds.
---
Where and when is trapping allowed?
– From 20 October – 31 December (both days included)
– Everyday, from 2hrs before sunrise until 2hrs after sunset (trapping is not allowed during the night)
– Trapping in not allowed in protected sites (i.e. Bird Sanctuaries, designated 'xagħri' areas within Natura 2000 sites, Scheduled Level 1 and Level 2 Areas of Ecological Importance and Sites of Scientific Importance)
---
What is not allowed while trapping?
– It is illegal to use electronic callers/ tape lures
– It is illegal to have more than 10 live birds used as lures on a trapping site for Golden Plover and Song Trush and it is illegal to have more than 21 live birds used as lures on a trapping site for finches (7 for each species)
– It is illegal to operate the nets automatically by any means (nets must always be operated manually, by the trapper)
– It is illegal to have more than two pairs of nets in use at one time
Report
If you witness or know about any illegal trapping it is important to first report to the Police, and then to BirdLife Malta.
Police: 119
BirdLife Malta: 2134 7645/6
If you need any extra help, download our step-by-step guide in Maltese or English on how to report illegal trapping to the police.
Finch trapping
When Malta joined the EU in 2004, a ban on finch trapping was one of the conditions of the Accession Treaty. The government agreed to gradually phase out trapping for finches over a five year period. However, in 2014 the practice was reintroduced.
The finches trapped include Greenfinch, Goldfinch, Hawfinch, Chaffinch, Serin, Linnet and Siskin.
In September 2015, the European Commission announced that they will be taking Malta to the European Court of Justice (ECJ) for allowing finch trapping, against EU law.
The court case was initiated in October 2015 and the verdict is now imminent. In July 2017 ECJ Advocate General Eleanor V. E. Sharpston delivered a scathing Opinion denouncing finch trapping in Malta and clearly declaring that Malta had no judicious cause to trap birds whilst questioning the level of enforcement and supervision. It is only natural that the final verdict due in the coming weeks will be heavily based on this Opinion.
Despite this, however, the Maltese Government in autumn 2017 decided once again to open the trapping season. This is the fourth finch trapping season to be opened (October 2014, October 2015, October 2016 and now October 2017) despite the finch trapping derogation having continuously been an issue with the EU since the first steps taken against the country with the Letter of Formal Notice sent by the EU Commission to Malta on October 17th, 2014.
Click here for a detailed timeline of the history of finch trapping in Malta.
Below are the seven types of finches which are the subject of court action initiated by the European Commission against Malta at the European Court of Justice (Click on each picture to enlarge).
Impacts
Trappers prepare their trapping sites by removing vegetation using mechanical cutters, burning or toxic herbicides. In many cases soil, sand or gravel is then dumped on the land to create a level surface on which nets can be laid. This practice scars the land and in fact, trapping sites can easily be seen from the air or satellite images.
Many trapping sites are situated in some of the richest areas for biodiversity on the Maltese islands, including Natura 2000 sites.
Many trapping sites are also illegally built in Special Areas of Conservation, where the act of destroying protected habitat is against international law.
The destruction of habitat impacts on other species of flora and fauna, resulting in a loss of biodiversity, further impoverishing our countryside.
Apart from loss of habitat, wildlife is also harmed by nets which are often left unattended on the ground overnight, out of season, or after being abandoned. This exposes animals and birds to the risk of getting entangled in the nets and suffering a slow death of starvation or exposure.
The damage trapping can cause to the environment is one of the reasons trapping is banned in EU member states under the Birds Directive.
About
Trapping in Malta is mainly carried out using clap nets.  This method uses – two large nets which are placed parallel to each other on the ground and swing shut towards each other when activated. In preparation for the use of clap nets, trappers remove all vegetation in the trapping area and often dump soil or gravel to create a level surface where the nets can be spread. A number of live decoy birds are also placed around the trapping site – either kept in tiny cages or tied directly to the ground by a harness.  This type of trapping site is the one most frequently encountered in the Maltese countryside.
Another type of net used is a vertical net spread over a tall crop, such as corn, with three sides dangling to the ground and the fourth tied up like a curtain. This net is used to catch Common Quail, which seek cover in the crops after arriving in Malta at night – they are again attracted to the area by a large number of live decoys or electronic lures. In the morning the net is closed completely and a dog is pushed under the net to flush the trapped quails into a corner where they can be removed by the trapper.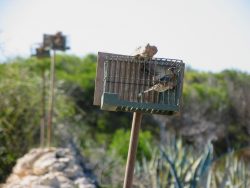 Cage traps are often used to trap Turtle Dove, although they are also effective in targeting a wide range of other species.
Cage traps consist of a large central cage in which live decoy birds, food and water are kept, and separate cages into which wild birds can enter. Wild birds are attracted by the live decoys and enter the cage through small holes to join the decoys. Once the bird goes in it can't get out.
Decoy birds are normally used by trappers to lure wild birds into a trap; however tape lures are also being illegally used. A tape lure repeating the calls of wild birds is a very effective method of attracting birds to a trapping site as it can be left to run repeatedly for all night.
Of the 7 finch species targeted by trappers, 6 have bred historically in Malta. However, as trapping became more intensive fewer of these birds continued to breed here. Today the species have either been reduced to sporadic and irregular breeders, or no longer breed at all in the Maltese islands.
Many of these species, such as the Greenfinch, Goldfinch and Common Chaffinch, are common garden birds in other European countries. Malta therefore has the dubious distinction of being the only European country that does not have a viable population of breeding finches. It isn't only larger countries that have populations of breeding finches but also many of the central Mediterranean islands including Sicily and the much smaller islands of Lampedusa, Pantellaria and Linosa that also have breeding finch populations.
Malta, like the other central Mediterranean islands, has suitable habitat, food and water for these species to breed and raise their young. Every year, a few pairs of finches do try to breed in the Maltese islands and despite the high levels of illegal trapping some even succeed. If trapping in the Maltese islands stops, and the law is strictly enforced, Malta can have songbirds like every other country in Europe.