Volunteering is a great way to help nature and wildlife, while meeting like minded people and having some fun!
Please see our current volunteering opportunities below.
Events Volunteers
We are seeking volunteers to help us at public events such as fairs, guided walks and nature reserve open days.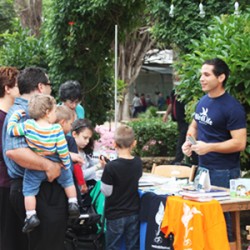 Our events are varied, and the role would be too – you might be playing games or doing crafts with children at an event on our nature reserves, helping on a stall at a fair or assisting a group on a guided walk.
You must be happy talking to the public and sharing your love of nature.
Other tasks might involve selling merchandise and handling money, and setting up/ taking down displays.
This is a flexible role, and you can choose which events you want to support if the dates suit you.
If you are interested, please email events@birdlifemalta.org
Spring Watch 2017
BirdLife Malta is recruiting volunteers for Spring Watch 2017!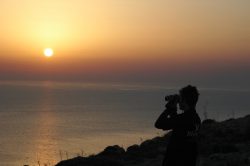 What is Spring Watch about?
Spring Watch is a conservation camp that forms an integral part of BirdLife Malta's fight against spring hunting and wildlife crime. This camp is organised during the peak spring migration period in Malta with the aim of curtailing illegal hunting activity and collecting data on bird migration. This is no holiday, but a serious conservation effort!
Malta and migration
Malta is situated on one of the main migratory flyways Europe's birds use to reach their breeding grounds in mainland Europe. 398 bird species have been recorded over the islands of which around 170 occur annually. In the middle of the Mediterranean Sea, Malta serves as an important resting spot for tired raptors and other bird species – however many birds find persecution from illegal hunters and trappers instead of shelter.
Migration and the spring hunting problem
Spring is the season Europe's birds return from their wintering grounds to breed and this is why spring hunting is forbidden throughout the EU under the Birds Directive.  Malta is the only country in Europe that derogates from the Birds Directive to open a spring season for Turtle Dove and Quail.
Following the uplisting of the Turtle Dove to Vulnerable,  however, a moratorium on the species has been declared in 2016, and this year spring hunting will only open for Quail.
Besides the obvious unsustainability of the practice, spring hunting also brings forth widespread wildlife crime. This includes direct targeting of protected species, especially trophy birds like raptors or storks, the use of modified shotguns, hunting in protected areas and more.
What does the camp consist of?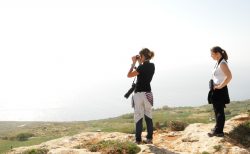 Illegal hunting surveillance and bird migration monitoring are the two main elements forming the camp. Every day our teams leave their hotel early in the morning, heading out into the countryside to keep watch over birds leaving the islands for Europe. This watch is normally carried out between 5-8:30am, after which teams return to the hotel. In the afternoon teams again head out into the countryside to watch over birds coming to the islands to rest. This shift is normally carried out between 4-8:30pm.
On exceptional migration days watches may last longer than usual, and when rare birds visit the islands a 24 hour watch may be organized to protect these prized birds from illegal hunters.
When is the camp held?
The camp is normally held in April and the dates will be announced at a later stage. Volunteers may come for one or two weeks depending on their availability and the flight schedule.
Costs
BirdLife Malta does not charge a participation fee, but volunteers are expected to pay for their own accommodation. The current rate is €35 for a shared room and €50 for a single room, full board. Equipment is provided, but volunteers often prefer bringing their own binoculars and cameras.
Applying
Are you interested in taking part in this year's Spring Watch? Get in touch with Nick at nick.piludu@birdlifemalta.org to receive an application form, get more information, and discuss your participation.