This page contains publications which BirdLife Malta issues on a regular basis, together with reports which are made accessible to the public. These may include reactions to developments, reactions to new legislations being proposed, and position papers regarding different aspects related to BirdLife Malta's work.
2016 Report: Response to plans to develop Ta' Ċenċ area into Malta's first 'Heritage Park' and revised plans for expansion of hotel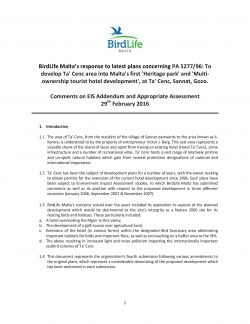 This 29th February 2016 report represents BirdLife Malta's fourth submission on the development plans for Ta' Ċenċ following various amendments to the original plans, which represented a considerable downsizing of the proposed development within a Natura 2000 site.
2015 Report: Response to Public Consultation Exercise regarding a Proposed Amendment of the Conservation of Wild Birds (Amendment no 2) Regulations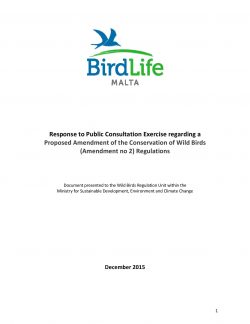 On the 13th November 2015, the Wild Birds Regulation Unit published a draft of proposed amendments to the Conservation of Wild Birds Regulations, which were to introduce a number of fundamental changes to wild bird protection regulations. In reaction to a call for public consultation, this document was compiled to inform all concerned authorities, as well as personally the Parliamentary Secretary in charge, of the implications of these proposed amendments, so as to truly ensure that any amendments done to these regulations benefit the protection of wild birds rather than impede it.
2014 Report: Light pollution impact on "tubenose" seabirds: an overview of areas of concern in the Maltese Islands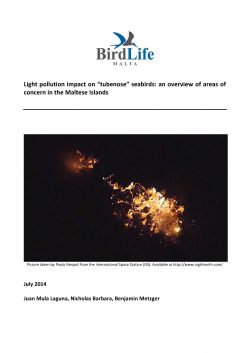 This 2014 report studied the impact of light pollution on Yelkouan Shearwaters in Malta and assessed the magnitude of the issue as based on cases and research reported by the public to BirdLife Malta over the past 36 years. Main hotspots of the island were identified, with our results indicating an apparent relation between the number of stranded birds in a given area along with the levels of light pollution and the vicinity and scale of a seabird colony.
2010 Report: Report on Studies to Investigate Seabird By-catch by Maltese Fishers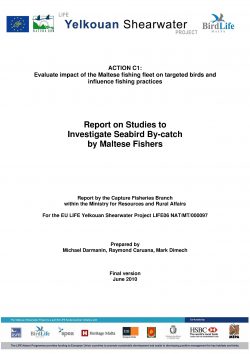 This June 2010 report for the EU LIFE Yelkouan Shearwater Project seeked to evaluate impact of the Maltese fishing fleet on targeted birds and influence fishing practices. A multidisciplinary approach was taken in order to comprehensively evaluate seabird by-catch in the Maltese long-line fisheries. For the first time, an informed understanding of the exact nature and extent of the by-catch on both Puffinus yelkouan and other seabird species by the Maltese fishing fleet was developed.
2007 Report: Identifying Maltese fishing grounds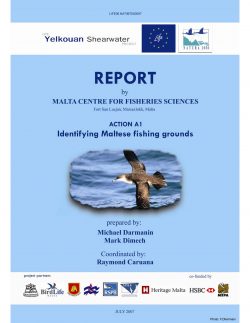 This July 2007 report is a review to identify Maltese fishing grounds by fish type and area, and to analyse Maltese fisheries activities in order to map specifically the types of fishing activities undertaken in different fishing grounds and how these factors vary during the year. The report was compiled by the Malta Centre for Fisheries Sciences for the EU LIFE project carried out by BirdLife Malta on the Yelkouan Shearwater.
2007 Report: The international impact of hunting and trapping in the Maltese Islands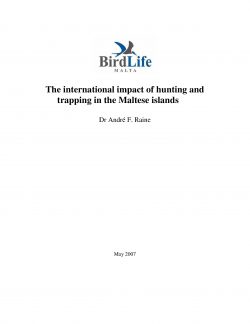 This May 2007 report shows the international importance of Malta on the
European-African migratory flyway. Birds from breeding populations throughout Europe pass over Malta every year on their way to African wintering grounds. It follows that illegal hunting and trapping activities in Malta have a direct resonance on the conservation efforts of countries throughout Europe and Africa. Malta therefore has a responsibility to protect these species, which should be viewed as a common heritage and not simply as a resource for Maltese hunters and trappers.