€260.00
Pay to join our Nature Guardians programme here!
Before proceeding to payment, you need to have received confirmation from us that you have been chosen for this course. Please fill in personal details in the checkout page.
You will receive a receipt by email which you will need to present on the first day of the course. In case of difficulty please email [email protected].
1 in stock
Description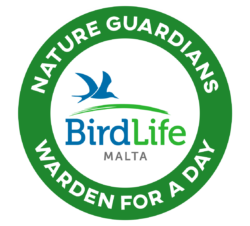 Nature is constantly under attack from human greed and encroachment. This is especially the case in a country like ours where green spaces come at a premium. Nature needs our help. Nature needs protection, conservation and where necessary restoration.
Nature needs Nature Guardians!
With this in mind and with a dream of a future generation which cares and acts in favour of nature, this spring BirdLife Malta is once again launching a three-month course for children aged 7 to 11. This fun, hands-on learning course will look into the wonders of local nature, be it the smallest insect, to the most curious tree and the fascinating birds.
Held outdoors at the Salina, Simar, Għadira and Foresta 2000 Nature Reserves, a small group of children will learn what it means to manage habitats and improve them for the good of flora and fauna. We will monitor migration, build bug hotels and nest boxes, set up freshwater ponds and much more.
These three months will be a voyage in which children will make new friends, bond with nature and become more conscious and appreciative of the need to take care and act in favour of nature.