APUS stands for Appreciating, Protecting and Understanding Swifts. Swifts returned to breed in Malta in 2007, after an absence of many years. This project, created and coordinated by young people from BirdLife Malta's Falko group, aims to raise awareness of swifts in Malta and encourage more to breed in our towns.
About
The APUS (Appreciating, Protecting and Understanding Swifts) project was created and coordinated by the young people of BirdLife Malta's Falko group.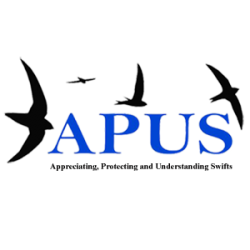 Swifts began to breed again in Malta in 2007, after an absence of many years. This project aims to raise awareness of swifts in Malta by working with other young people and local communities, and to encourage more swifts to breed by putting up nestboxes in towns.
Project activities include nestbox building and installation, talks in primary schools, public events, and an annual Swift Celebration Event when the swifts arrive back in the spring to breed again.
Get Involved
Home for Swifts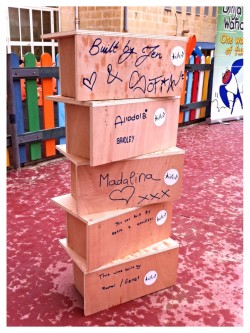 We have been busily building swift nestboxes with children in schools and at events, to provide homes for breeding swifts in Malta. Now we need to find buildings on which to install them!
Ideally we are looking for tall building in the areas where we know swifts are already breeding – Msida, St. Julian's, Mellieħa, Mosta and Mdina.
Buildings should be two stories or higher, and could be a house, school, apartment or office block, or hotel.
Our volunteers can come out to install the swift box you, so if you would be interested in attracting some  new neighbours, please get in touch!
Swifts
Swifts are one of only a few birds that have adapted to spending most of their lives in the air. Recognisable by their boomerang shape and rapid flight pattern, their bodies have evolved to make them exceptional flyers. They eat, drink, fight, mate and even sleep while flying!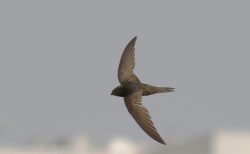 As a result of this specialization they are capable of performing rapid, sharp turns and reaching very high speeds. The swift is actually one of the fastest flying birds in the world reaching speeds of more than 110Km/h in horizontal flight!
The only downside to their flying prowess is a pair of under-developed legs that are not very useful on the ground and make them terribly clumsy. If they fall to the ground, they might not be able to take flight again.
From the beginning of March through to October, the Common Swift can be seen passing over Malta, making its way back from Africa to its European breeding grounds.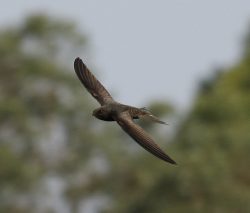 They only take a break from flying when nesting. Swifts breed in the summer, and have established themselves as a regular breeding species again in Malta over the last 5 years. Breeding couples stay over the summer and having adapted very well to urbanisation, they can often be seen in the towns of Sliema, Paceville and San Ġwann.
One of the easiest ways to locate swifts is by hearing their loud ringing screams in a monotone 'srriiiirr' sound. On summer evenings large groups gather and they form "screaming parties" that can become incredibly noisy!
To try and spot a breeding swift near you, we recommend taking a trip to Mellieħa Church or St Paul's Cathedral in Mdina.