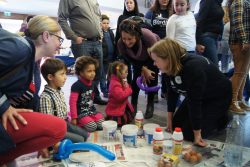 This year we will be offering Nature Days in Simar Nature Reserve for established summer schools.
Summer schools will have the opportunity to book a day out with us at our nature reserve. This is a great opportunity for children aged 4 to 12 years old to have fun learning about wildlife and environmental issues while getting outdoors and enjoying the beautiful weather. Children will be given an exclusive opportunity to discover our reserves with some fun games and activities.
If you would like more information do not hesitate to contact us on education@birdlifemalta.org or by calling +356 2134 7645 (Ext 503).
We are also currently collaborating with Nutty Scientists in developing Nutty Explorer days at our reserves! More information will be available soon and will be announced on our events page here: https://birdlifemalta.org/events.