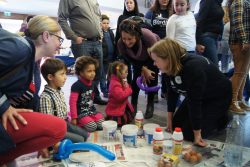 For the second consecutive year we are happy to be launching our fun-filled summer school!
After last year's debut with a programme held in conjunction with schools at Salina, this year we shall be organising our very own Young Explorers Club at Simar Nature Reserve.
This is a great opportunity for children from 7 to 11 years old to have fun learning about wildlife and environmental issues while getting outdoors and enjoying the beautiful weather. Children will be given an exclusive opportunity to discover our reserves and get up and close with the wildlife that lives there.
This year's programme will be held in July and August and will run every Tuesday and Thursday from the 3rd July until the 30th August (except for the week 13th-19th August). Sessions are in English and run between 08:00 and 12:00. Parents can book their children by calling +356 2134 7645 (Ext 503) during office hours or sending an email to education@birdlifemalta.org. More details will be announced on our events page here: https://birdlifemalta.org/events.