Il-Ħuttafa is a new radio series by BirdLife Malta which is aired weekly on RTK every Saturday at 8.30am.
'Il-Ħuttafa' (Barn Swallow in Maltese) is the name of BirdLife Malta's junior magazine. Now it has literally gone on air, through this weekly radio programme based on the magazine's articles.
Over the last scholastic year, field-teacher Jason Aloisio worked with teacher Kathleen Galea and a team of students from St. Nicholas College, Rabat Secondary School to produce 13 programmes packed with information and news about nature and the environment. The 30 minute programme has been on air since the beginning of October 2017 with the first episode aired on Saturday 7th October. The programmes produced by Jason Aloisio are presented by Kathleen Galea and Daniel Buhagiar.
All the programmes aired to date in the series are uploaded further down.
Click on the video below to watch the promo prepared for the first episode in the series. You can also click here to listen to RTK live and here to access the radio's ongoing autumn schedule.
Il-Ħuttafa magazine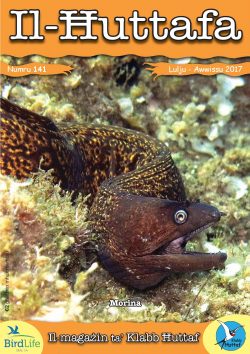 'Il-Ħuttafa' is BirdLife Malta's bimonthly junior magazine, edited by Victor Falzon, who also takes care of its design and artwork.
Each full-colour issue is packed with news and information about nature and wildlife, fun facts and activities to get the readers excited about wildlife.
The first issue was published in 1994 and over the years the magazine has increased in popularity with both the junior members and their parents.
The magazine is sent out to all our young members. In order to become a member visit our membership section here.
The presenters
Daniel and Kathleen have been producing and presenting television and radio programmes for many years. They have produced programmes mainly for children and teenagers. They also won the Broadcasting Award for best children's television programme with the programme "Scooters" broadcast on TVM and Education 22 and the Broadcasting Award for best children's radio programme with the programme called "Ċama Ċama" aired on Radju Malta.
The programme "Il-Ħuttafa", produced by Jason Aloisio,  has given them the opportunity to work together again on this extremely educational journey through which they find out more about the Maltese flora and fauna with articles from the magazine "Il-Ħuttafa".
Both of them come from an education background: Daniel has been working in education for the past 18 years, eight of which have been as an Assistant Head, while Kathleen has been teaching for the past 23 years.
Nature and its importance in their lives has always played an important role in all their programmes mainly because of their firm belief that if one appreciates and loves nature then one will also do one's best to safeguard it in any way possible.
The school
St. Nicholas College consists of six primary schools and two secondary schools and caters for students coming from Attard, Dingli, Mtarfa, Mġarr, Rabat and their outskirts. The College Principal is Josephine Mifsud.
The Boys' Secondary School is situated in Swatar, Rabat. The head of school is Steve Mifsud.